Despite a significant decline in unit shipments, revenue for the U.S. television market is expected to remain flat in 2013 compared to 2012 as larger, higher-priced sets account for an expanded portion of sales.
U.S. television revenue will amount to $28.2 billion in 2013, almost unchanged from $28.1 billion in 2012, according to the latest U.S. TV Market Tracker report from information and analytics provider IHS (NYSE: IHS). Meanwhile, shipments this year are expected to decline by 4 percent to 36 million, down from 37.5 million in 2012.
The stronger performance for revenue will be generated by an increase in the average selling price (ASP) of all TVs. U.S. television ASP is expected to rise 5 percent to reach $783 in 2013, up from $749 in 2012.
"With the flat-panel-replacement wave fading further into history, the U.S. television market is undergoing a long-term slowdown in unit shipments," said Veronica Thayer, analyst for consumer electronics & technology at IHS. "However, market revenue in 2012 and 2013 is expected to hold steady as shipments of larger-sized, more feature-rich and higher priced sets continue to increase. Illustrating this trend, shipments of liquid-crystal display televisions (LCD TVs) sized 55- to 59-inches are expected to surpass those in the 45- to 49-inch category in 2013 for the first time ever this year."
The big picture
LCD TVs in the 55- to 59-inch size range are expected to account for 10.2 percent of U.S. television shipments in 2013, up from 9.6 percent in 2012. In comparison, sets ranging from 45- to 49-inches will decline to 8.3 percent of the market, down from 11.7 percent. By 2018, the 55- to 59-inch segment will rise to 13.0 percent of total U.S. LCD TVs.
Meanwhile, shipments of 60-inch and larger LCD TVs this year will make up 9.6 percent, up from 6.6 percent in 2012. This trend is expected to continue, with the shipment of such sets climbing to represent 12.0 percent of the market in 2018. In terms of revenue, growth will be even bigger, increasing to 35 percent in 2018, up from 18 percent in 2012.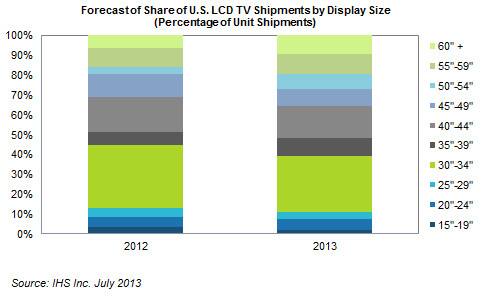 LED balloons
Sets using light-emitting diode (LED) backlighting technology in 2013 are forecast to increase to 28.9 million units, accounting for a total of 84 percent of the U.S. LCD TV market. This is up 48 percent from a total of 19.4 million LED-backlit TVs in 2012.
Meanwhile, the U.S. market for older cold-cathode fluorescent lamp (CCFL)-backlit sets is in rapid decline, with share for such TVs anticipated to drop to nearly zero in 2016.
"LED TVs have been a big consumer hit, marketed on the basis of being eco-friendly and with better image quality," observed Thayer. "Meanwhile, the price differential between CCFL- and LED-backlit sets in smaller sizes has dwindled down."
---