Sales of liquid crystal display televisions (LCD TV) during China's Labor Day holiday rose 18 percent in 2013 compared to a year earlier, as consumers were lured by attractive promotional pricing and a government subsidy program.
Chinese consumers bought 4.2 million LCD TV sets in a three-week stretch from April 15 through May 5, the Labor Day selling season for this year, according the TV Systems Intelligence Service at information and analytics provider IHS (NYSE: IHS). Sales were up from 3.6 million units in 2012. With a nearly 20 percent expansion, the results in 2013 for the period represent a major growth rebound compared to the tepid increase of 9 percent during the same time last year.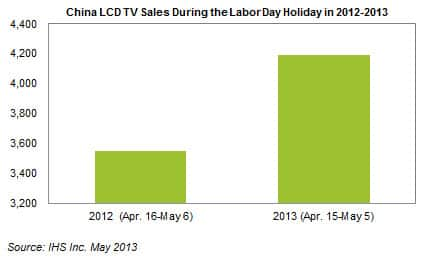 "After disappointing results in 2012, the Labor Day holiday returned the China LCD TV space to strong growth in 2013," said Kathleen Zhang, senior China television analyst for IHS. "Following a strong first quarter, the top domestic LCD TV brands marched into the Labor Day period with very high expectations. Brands wanted to clear their television inventories going into the holiday, which is the last selling cycle for the first half of the year."
The TV brands also hoped to sell as many sets as possible before a government subsidy program and incentive expired on May 31, Zhang noted.
Buy local
China's Top 6 domestic LCD TV brands together achieved a sales uptick of 28 percent during the Labor Day period, exceeding the market average. While companies had built up excess television inventories in the channel, the stockpiles were down to moderate levels by the time the selling season was over.
Government incentive powers up the TV market—for now
The Labor Day sales season in 2013 was boosted by an energy-saving subsidy offered by China's National Development and Reform Commission on home appliances in five categories: TVs, refrigerators, air conditioners, washing machines and water heaters. The incentive went into effect on June 1, 2012.
However, Labor Day 2013 may be the last hurrah for the sales stimulus in the television market.
If the Chinese government doesn't extend the energy-saving TV subsidy program in June, the television market in the country is expected to undergo a major slowdown. As of May 10, Beijing had not announced a decision on whether to continue the program after the end of May.
As a result, television brands have had to prepare for the worst-case scenario by trying to make good use of the last few weeks before the subsidy ends.
Domestic television brands continue to engage in aggressive marketing campaigns even after the end of the Labor Day season. For example, Konka initiated a five-day nationwide sales promotion during May 17 and May 21. Furthermore, some e-commerce dealers have been offering special discounts.
"How healthy China's LCD TV demand in the second half this year is highly dependent on the Chinese government's decision to keep the incentive or to let it expire," Zhang said.
UHD goes on the air
Ultra-High-Definition (UHD) televisions were a hot topic for LCD TV marketing during the Labor Day season. Nonetheless, these expensive sets still represented only a small portion of total sales.
All Top 6 local brands had launched UHD TVs in China by April. Sets sized 50-, 55-, 65- and 84-inches were already available by Labor Day, and 39-/58-inch sets were added during the season.
Still, the lack ultra-high definition content is a big obstacle for UHD TV market growth. Undeterred, local brands remain aggressive in promoting the product, hoping to entice consumers with attractive prices. For their part, retailers are showing UHD content demonstration in stores, also in a bid to attract consumer attention.
Learn More >> TV Systems Intelligence Service
---