Shipments and revenue of video surveillance equipment in Russia and Eastern Europe are on track to approximately double from 2012 to 2017, buoyed by improving economic conditions and preparations for the 2014 Sochi Winter Olympics and 2018 FIFA World Cup, both events to be held in Russia.
According to a new report from IHS Inc. (NYSE: IHS) the East Europe and Russia market for CCTV and video surveillance equipment is forecast to see impressive growth over the next five years. The market is forecast to reach $1.26 billion in 2017, up from $581.4 million in 2012, equivalent to a compound annual growth rate (CAGR) of 16.8 percent during the five-year forecast period.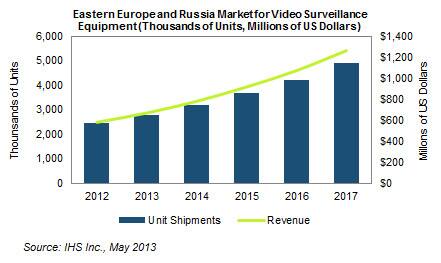 Historically the Russian market has been dominated by cheaper video surveillance solutions. But with the Russian economy enjoying a healthy recovery bolstered by rising oil and gas prices, users increasingly will turn to high-end networked security solutions, IHS predicts. Demand for these high-end video surveillance offerings will increase during the run-up to the two major international sporting events.
"Threats from terrorism—especially at high-profile events—serve to heighten security concerns around the world," said Aaron Dale, analyst for security and fire research at IHS. "Such concerns lead to an ongoing increase in funding for high-end networked video surveillance equipment, as authorities look to capitalize on the latest advances in technology. Interest exists not just in publicly funded enterprise projects but also in the private sector, particularly in retail and banking."
Other growth drivers include the replacement of older video surveillance technologies from existing users updating their systems in order to take advantage of the latest technologies.
Network video
Network video surveillance cameras are on the rise in the two regions, thanks to better IT infrastructure and technological awareness.
In Eastern Europe, network security cameras are estimated to account for 84 percent of security camera revenue in 2017. This is up from just 65 percent of the total Eastern European security market revenues in 2012.
In Russia, network security cameras by 2017 are forecast to account for 81 percent of security camera revenue. Networked security cameras last year accounted for only 58 percent of total revenue.
Part of the success of network security cameras resides in falling prices as a result of competition from China and Taiwan, as well as a greater awareness of benefits. Furthermore, network security cameras are expected to experience less price erosion over time as companies operating in this high-end market compete by means of product differentiation, brand loyalty and customer service, rather than simply battling it out on price.
Government funding
Much of the investment in video surveillance equipment in Eastern Europe and Russia comes from government funding. For Russia, in particular, government funding is a significant growth driver, and the Russian government will be providing large amounts of funding in this area for the foreseeable future, IHS believes.
In anticipation of the two major sporting events coming to the country, a large number of infrastructure projects are currently being planned, with additional budget allocation set aside to develop other facilities inside the country. It is estimated that the Russian government will invest some $9.5 billion in its stadiums, hotels, infrastructure and airports during the next five years. This opens up a significant opportunity for video surveillance, especially in light of perceived threats on terrorism and crime.
---