Activity has plunged in the global photovoltaic (PV) polysilicon spot market—one of many hopeful signs corroborating IHS's prediction that prices for the key solar raw material soon will bottom out as supply comes into better alignment with demand.
The spot market in December of 2012 accounted for 20 percent of total polysilicon sales, down dramatically from its peak of 47 percent in May, according to the IHS Solar Polysilicon Price Index from information and analytics provider IHS (NYSE: IHS). The high level of spot market volume in mid 2012 indicated that polysilicon was in an acute state of oversupply. Producers were dumping excess stockpiles on the spot market, driving down prices to bargain levels that lured buyers away from long-term contract agreements.
This phenomenon was associated with a major, sustained plunge in polysilicon prices, with the polysilicon price per kilogram falling to an average of $20.00 per kilogram at the end of 2012, down from $31.00 in February last year.
However, the fact that spot market volumes having fallen by more than half indicates that suppliers have reduced production to accommodate demand—suggesting that pricing is approaching the bottom.
"As IHS predicted in November, solar polysilicon pricing in early 2013 is nearing the end of its long, 24-month decline," said Dr. Henning Wicht, director and principal analyst, photovoltaics, for IHS. "The drop in spot market volume, along with a range of other indicators, suggest that the price plunge that hamstrung polysilicon supplier profits throughout 2012 will soon come to an end."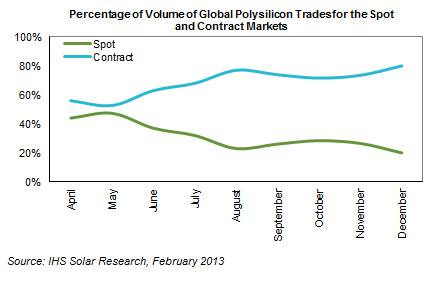 Tier 1 suppliers are leading the way in reducing production, following IHS's advisory issued in September 2012. These companies are attempting to avoid a replay of 2012's miserable conditions by controlling volumes and not inflating the spot market.
The top suppliers also have experienced erosion in their profit margins. Even the most competitive suppliers now are warning investors they cannot afford to continue lowering prices to gain market share.
With their factory utilization reduced, these leading companies now are incurring higher unit costs per part manufactured. This also will compel the top-tier suppliers to cease reducing prices.
Pricing is expected to start increasing this month and continues through March.
While supply is adjusting to reduced sales, demand is expected to increase only modestly in 2013.
Even if demand increases at a higher rate than expected, Tier 1 suppliers will be reticent to increase production, keeping in mind that oversupply would destroy any price recovery immediately.
IHS Solar believes Tier 2 and Tier 3 suppliers are likely to play a reduced role in the market for several months. It will take prices higher than $25.00 per kilogram to stimulate the ramping-up of the idled factories.
Read More > Traders Start to Hoard: Poly Price Firming Expected in Q1-13
---