With U.S. broadband customers set to rise to the same level as pay-TV subscriptions in 2016, the American cable and satellite businesses have reached a critical point where their continued growth will hinge on the success of their new TV Everywhere services, according to the IHS Screen Digest service at information and analytics provider IHS (NYSE: IHS).
Speaking at the Consumer Electronics show on Thursday, Tom Adams—IHS director and principal analyst for US media research —will deliver a "Just the Facts" presentation entitled: "TV Everywhere: Who's Making What Content Available Where?"
The presentation will examine the high-stakes battle between U.S. pay-TV operators and over-the-top (OTT) services amid the increasing prevalence of broadband services.
"Based on our continuing analysis of TV Everywhere and OTT services like Netflix, it's clear that the U.S. pay-TV industry has reached a historic juncture," Adams said. "Neither print nor audio media have been able to properly capitalize on—or even just withstand—the Internet juggernaut. So, the key question for U.S. pay-TV operators in the years ahead is: Will TV Everywhere keep customers coming to them, rather than to their OTT competitors, for video entertainment?"
TV Everywhere is a system that allows subscribers to access pay-TV content delivered via the Internet to multiple platforms, including television, PCs, smartphones and media tablets.
Broad reach for broadband
The challenge for traditional cable and satellite operators is the mounting penetration of broadband among U.S. consumers, which is rising to rival the level of pay-TV. U.S. broadband connections will expand to 99.9 million in 2016. This compares to 100.4 million for all cable, satellite and telco pay-TV subscribers during the same year, as presented in the figure below.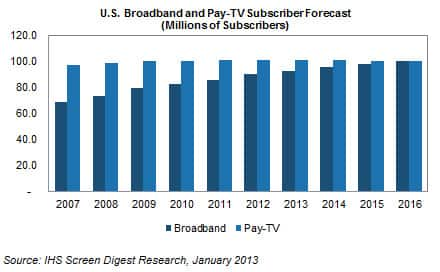 Adams' presentation at CES will show how competition between pay-TV and the Internet has become central to the future of the overall home entertainment marketplace.
"The growing ubiquity of broadband connections has leveled the playing field between OTT Internet-based video services and pay-TV operators," Adams explained. "So now the battle is joined in the contest to provide consumers with the most attractive package of content, applications and devices for their in-home and on-the-go enjoyment."
Tracking the OTT/pay TV battle
Adams' presentation will provide a detailed look at operators' varying flavors of the TV Everywhere service, from video-on-demand to linear channels, from download-and-go to cloud-based streaming, and from in-home to out-of-home. On the network side, Adams will spotlight which content owners are leading the way, and which are lagging, in supporting operators' TV Everywhere efforts. On the technology front, the presentation will provide a look into the future, examining which consumer propositions are likely to prove the most popular and thereby drive hardware sales.
"The battle between pay-TV and OTT will be the key media competition of the decade ahead, just as the battle between the open Internet and proprietary services like AOL defined the mid-'90s," Adams said. "The Internet is now fully video-enabled. Do pay-TV operators have the right stuff with TV Everywhere to remain the dominant players in delivering video entertainment in the digital age? That's what we'll assess at CES this year."
Get the facts at CES
Adams' presentation at the Consumer Electronics show will be held on Thursday, Jan. 10 at 3:30 p.m. For more details, please visit: http://www.cesweb.org/Conference-Program/2013-CES/Tracks/Just-the-Facts-Research,-Reports-and-Revelations.aspx
---