Notebook PCs during the next four years increasingly will adopt muscular quad-core microprocessors, with all types of models bulking up their computing power amid the rising competitive challenge posed by media tablets and smartphones.
Shipments of notebook PCs configured with quad-core microprocessors will nearly quadruple from 2012 to 2016, according to an IHS iSuppli Compute Platforms Topical Report from information and analytics provider IHS (NYSE: IHS). Quad-core-equipped notebook shipments will reach 179 million units by 2016, making up 59 percent of all notebooks that year. That compares to 48 million units this year, representing 22 percent of all notebooks shipped in 2012.
"The increase in notebooks' computational capabilities through the use of quad-core microprocessors will play a critical role in PC makers' efforts to remain competitive amid the onslaught of media tablets and smartphones," said Peter Lin, senior analyst for compute platforms at IHS. "While notebooks have greater computing power than either tablets or smartphones, they have lost considerable clout as consumers flock to the flashier gadgets, especially products like the iPad from Apple. Notebook sales have suffered as a result, alarming companies throughout the PC supply chain."
Quad Cores for the Masses
Much of the growth in notebook quad-core microprocessors will be driven by increasing penetration among value and mainstream notebooks—defined as those priced less than $700 and $1,200, respectively. These models are more underpenetrated in terms of quad-core adoption than the high-end notebooks, which are more powerful machines typically priced above $1,200. The figure below shows the penetration of quad-core processors among these three segments of the notebook market from 2012 to 2016.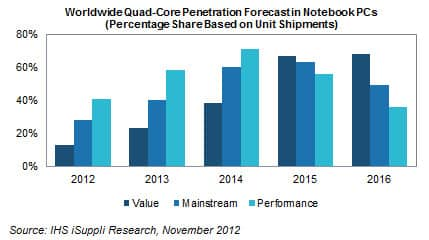 Notebooks Pump up their Quads
Featuring increased multitasking capability due to the division of tasks among its processors, quad-core microprocessors are much faster than dual-core counterparts, which currently prevail on the market. An appetite for increasingly detailed and high-definition media, along with the need to process data quickly, will help the faster uptake of quad-core microprocessors starting in 2014, IHS believes. And when a machine with quad-core microprocessors runs so-called multithreading software capable of utilizing all four cores at the same time, the results can be phenomenally faster speeds than in machines with dual-core equivalents. The effects are especially obvious in 3-D-intensive gaming.
Quad Cores find Value in Value Notebooks
Among value notebooks, quad-core processor penetration will grow from 13 percent in 2012 to 68 percent in 2016. By then, value notebooks with older dual-core processors will amount to just 8 percent.
The remaining 24 percent in 2016 will be split between models with either six-core or eight-core processors.
No value notebooks with six- or eight-core capability will be available before 2015, demonstrating how rare these are on the market. Even for the more powerful mainstream and performance models, six or eight-core processors will start appearing only in the next two years at very small percentages, before gaining greater traction in 2015 and 2016.
For mainstream notebooks, quad-core processor penetration will climb from 28 percent in 2012 to 49 percent in 2016. The penetration rate by 2016 for mainstream models is less than in the peak year of 2015—but only because six-core units move up in 2016. By then, there no longer will be any mainstream models with dual-core processors; all units will have processors that are quad-core or higher.
The same pattern applies for performance notebooks, with quad-core penetration already at a high 41 percent in 2012. Penetration peaks in 2014 at 71 percent, after which performance models with six-core and eight-core units also make their appearance on the market, driving down quad-core market share.
Other Capabilities to Show up in Notebooks of the Future
As more notebook PCs become empowered with quad-core processing ability, a small portion of them will also be featuring built-in Blu-ray optical drives. Shipments of notebook PCs with Blu-ray disks will amount to 49 million units by 2016, equivalent to 16 percent of all shipped notebooks by then. Those numbers compare to 14 million units by the end of this year, or 6 percent of the total notebook market.
The rise in Blu-ray-equipped notebooks will be due to two factors—the continued reduction in the costs of optical disk drives on the one hand; and the growing acceptance of high-definition movie formats on the other. The Blu-ray penetration rate among notebooks will climb even though consumers now favor video downloads to ever-bigger hard drives, as well as streaming direct from video sources. If not for those factors, Blu-ray adoption in notebooks would be even higher.
All notebooks of the future will also be running 64-bit operating systems. Fully 100 percent of PCs—notebooks and desktops alike—will have the capability by 2016, equivalent to some 434 million units. This compares to 68 percent by the end of 2012, or 233 million units.
Read More > Desktop and Notebook PC Technology Penetration Forecast
---