Consumers continue to favor lower-end desktop PCs and notebook computers over high-performance models for this year and beyond, with the top-end systems accounting for only 6 percent of the market in 2012, according to an
IHS iSuppli Compute Platforms Topical Report
from information and analytics provider IHS (NYSE: IHS).
The latest analysis on global desktop and notebook PC penetration shows that in terms of shipments and overall market penetration, lower-end computers classified in either the "mainstream" category or the "value" segment triumphed over higher-end PCs designated in the elite "performance" sector.
This year, for instance, the mainstream desktop PC category tied with the value PC category in the share of the global desktop PC market, with each segment projected to claim an evenly matched 46.9 percent by year-end. In comparison, performance PCs will be left far behind in third place, with a meager 6.2 percent. Meanwhile in the notebook computer space, the value notebook segment will take 46.8 percent, compared to 44.0 for mainstream laptops and 9.2 percent for performance models.
The table below shows the market share of both desktop and notebook PCs in the performance, mainstream and value categories for 2012. The market calculus doesn't change in the years ahead, with performance PCs continuing to hold down a minority position compared to either the mainstream or value segments.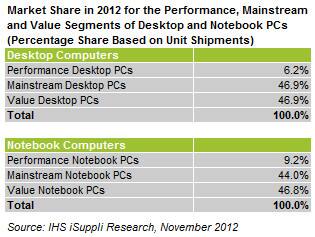 "For the desktop as well as the notebook PC market, the continuing domination of lower-end computers is due to the rising performance overall of PCs and their greater affordability to the purchasing public," said Peter Lin, senior analyst for compute platforms at IHS. "While the highest and most potent specifications are still reserved for expensive PCs belonging to the performance sector, computers now in the mainstream or value segments are powerful in their own right, and cannot be deemed as throwaway models. Instead, these more affordable systems feature current-generation technologies that prove adequate for most uses, or boast increased microprocessor power that raises the performance bar even for seemingly rudimentary machines."
Performance, Mainstream and Value PCs Defined
A PC is categorized as a performance model through its use of the latest available PC technology.
Price is a secondary concern given that the pursuit of ultimate performance is the primary consideration, and performance parameters are reflected in the machine's processor, memory, hard disk and graphics capabilities. Premium prices in the range of $1,000 and up are usual in this category, and towers and minitowers are the most common form factors. Processors used here include Intel's Core i7 or AMD's FX and A10 chips.
In comparison, the mainstream PC reflects the most common specs and functionalities available on the market. These models use the latest-generation technology, but not the fastest speeds, and are matched with competitive pricing. Such a combination, in fact, meets the requirements of a vast majority of both the consumer and corporate markets, accounting for the tremendous appeal of mainstream PCs.
The machines come in minitower, desktop or small-form factors, and are typically priced from $500 to $1,000. Processors used here include Intel's Core i5 or AMD's A6 and A8 chips.
Value PCs, on the other hand, do not use leading-edge hardware components, especially as price is the principal issue for this category. In light, however, of the increasing performance of microprocessors, value PCs are proving more than adequate for many consumer and corporate markets, which are happy to use the machines for web browsing, email and simple productivity tasks. Desktop and small-form factors are common in this category, with prices topping out at $500. Processors used here include Intel's Celeron and Core i3, as well as AMD's A4 and E2 chips.
Greater Processing Power Will be the Norm Moving Forward
As processors become more powerful, more computers will also ship with increased computing capability. Quad-core processors, for example, will be found in 179 million notebook PCs by 2016—equivalent to 59 percent of all notebook computers available on the global market by then. And among desktop PCs, fully 100 percent of the machines will be running 64-bit operating systems by 2016, making the slower and older 32-bit operating system obsolete by that time.
The positive projections for mainstream and value PCs do not hide the fact that the overall PC market continues to be bogged down by slow growth. Ultrabooks and other ultrathin computers have yet to make a dent on the market, and PCs as a whole have been sidelined by enormously popular devices such as tablets, like Apple's iPad, and also by smartphones with near-PC-like functionalities.
Read More > Desktop and Notebook PC Technology Penetration Forecast
---