The North America market for signage and professional displays grew in the second quarter, aided by the higher demand of lower-priced digital signage televisions (DS TV) that are used in indoor spaces, according to an IHS iSuppli Digital Signage & Professional Displays market tracker report from information and analytics provider IHS.
Shipments of DS TV displays in North America climbed to 155,230 units in the second quarter, up from 143,359 units in the first quarter. The second-quarter level this year was also higher than the 134,821 units shipped the same time a year ago.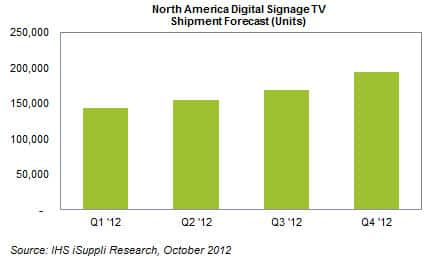 Forecasts show the market will continue to grow for the rest of the year, to 168,298 units in the third quarter, and then to 194,043 units in the fourth. The rise in DS TV shipments helped boost the overall North America market for signage and professional displays to 1.04 million units in the second quarter, up from 0.99 million units in the first quarter. 
Signage and professional displays embrace several technologies, but DS TVs belong to the group known as indoor digital signage, which also includes digital signage monitors.
DS TVs—also known as hybrid TVs—use consumer-grade panels and are primarily intended for commercial applications of moderate use. Warranties on DS TVs vary widely depending on whether display brands are solely repurposing their consumer TVs or if they perform some modifications on the electronics and housing. In the case of latter,  two-year extended warranties are also provided.
DS TVs are popping up today in bars, clubs and restaurants, as well as in small- and medium-business retail locations that have limited budgets and do not require high-end displays. Many core brands, including LG Electronics and Samsung Electronics from South Korea, as well as NEC from Japan, are actively pursuing opportunities in the DS TV-hybrid TV space.
In comparison to DS TVs, digital signage monitors feature commercial-grade display panels and housing. Designed specifically for business and heavy commercial use where the display needs to be on 24/7, the monitors are normally backed by a three-year warranty. Digital signage monitors also cost more than DS TVs.
Read More >> Hospitality TV Dips While Demand for Hybrid DS TV Soars