The NAND and NOR flash memory market landscape is shifting rapidly, with increasingly sophisticated mobile handsets playing a leading role in driving industry trends and determining which suppliers will be successful, according to an IHS iSuppli Mobile & Embedded market tracker report from information and analytics provider IHS.
Revenue for the flash memory market by year-end is projected to reach $24.3 billion, with the NAND segment accounting for $20.8 billion and the NOR sector making up the remainder at $3.5 billion. While this year's numbers are slightly down from 2011 because of a larger-than-expected erosion in NAND prices, the market will bounce back next year with growth of 11.4 percent, and then continue to expand at a steady clip. By 2016, total flash memory revenue will amount to $33.3 billion, equivalent to a five-year compound growth rate of 5.3 percent.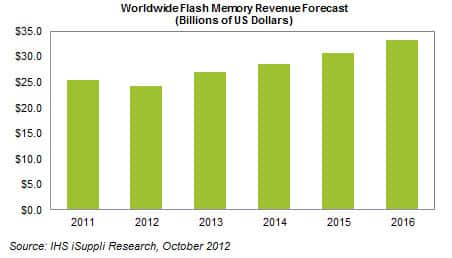 Flash memory growth is due in large part to mobile handsets. With Apple and Samsung leading the way, phones today are constantly being refreshed with the latest features and processors—requiring more powerful memory products, in turn.
NOR, which blossomed in the early years of the handset business, continues to be used in lower-cost cellphones despite ongoing loss in its total market to rival NAND. NAND flash, meanwhile, is enjoying high demand as consumers migrate to smartphones, in which data storage in the phones takes advantage of NAND cost, scale and die size.
NOR struggles to find its way
The NOR industry continued to contract, with the latest retreat occurring in the second quarter. NOR revenue fell to $837 million, down 4.6 percent from the earlier quarter, and down by an even steeper 28.2 percent from the second quarter a year ago in 2011.
NOR's troubles come from the wireless sector. Here, parallel NOR—a type of high-density chip used in performance-oriented systems—has come under fire. In its usage on the high end, typified by smartphones and a lower class of handsets called feature phones, parallel NOR is being squeezed by lower-cost NAND-based solutions emulating NOR capabilities. On the low end, pressure on parallel NOR comes from serial peripheral interface (SPI) NOR—a small, low-power type of flash increasingly employed in entry-level handsets, where keeping costs down to a minimum is important to handset manufacturers. 
The dim results of wireless NOR are echoed in the dismal performance of companies playing in that space. Heavy reliance on wireless NOR by U.S.-based Micron Technology Inc., for instance, resulted in the firm's 28.7 percent second-quarter revenue decline to $186 million, down sequentially from $261 million. Micron has another product, Phase-Change Memory (PCM), that is increasingly a part of the company's wireless equation and which it hopes will secure a weakening NOR wireless lineup.
In contrast to the poor performance of wireless NOR, results are much better in the embedded NOR segment, where applications are more extensive. Embedded NOR is used in devices as diverse as printers and Bluetooth, networking switches and medical imaging systems, PCs and gaming consoles.  
Within the embedded NOR segment, SPI NOR has also been triumphant, replicating its success in wireless NOR. Eager for a piece of the growing market, Taiwanese companies like Macronix International Ltd., Winbond Electronics Corp. and GigaDevice Semiconductor Inc. are now well ahead of Micron and Spansion Inc., another NOR leader, in the SPI NOR initiative. With a focus on lower densities and economical pricing, the new upstarts have been able to win design sockets in many Chinese handset manufacturers.
NAND success continues
Unlike the struggling NOR flash space, the rival NAND flash sector is flourishing despite a temporary setback this year that saw an erosion in average selling prices cut into total anticipated revenue. Even so, NAND prospects remain healthy overall.
For instance, Embedded Multimedia Card (eMMC) is now the de facto NAND flash solution in smartphones other than the Apple iPhone, which uses regular NAND instead. Shipments of eMMC will reach 520 million units by year-end, more than double from levels last year.
The success of eMMC in smartphones is trickling down to the lower-end handset segment. Densities starting at 4  and 8 Gigabytes of eMMC are the  sweet spot at present, but 16 and 32 gigabytes of eMMC can also be found on the higher range of the application spectrum.
Samsung is the dominant player in NAND, with a vast product portfolio that makes the South Korean electronics giant impossible to ignore among chipset companies and handset manufacturers. However, companies not traditionally identified with the NAND market are now also starting to compete, especially in the mobile space.
Read More >> Mobile Flash Faces Toughest Test Yet in Challenging Memory Segment