Pricing for large-sized liquid crystal display (LCD) panels was flat in September from a month earlier due to strong shipments in August that prevented the market from falling any further—the last time this year the space enjoys some measure of stabilization, as prices are projected to slide for the remainder of 2012, according to an IHS iSuppli LCD PriceTrak report from information and analytics provider IHS. 
The monthly pricing change during September for large-sized LCD panels—defined as those bigger than 10 inches in the diagonal dimension—effectively stood at 0 percent, as averaged out from individual pricing data in the panel's three major applications for TVs, monitors and notebook computers. It's only the second time this year, after July, when overall large-sized LCD panel pricing was deemed to not have risen or fallen significantly.
The market's stability in September was in stark contrast to conditions the same time last year, when average pricing in September 2011 had been down by as much as 4 percent. Pricing also moved up and down during the first six months of 2012, ranging from a decline of 0.9 points in January to a slight uptick of 0.2 percent in June. The September hiatus is expected to end in October when pricing slides a projected 0.3 percent, and then continues on its path down for the final two months of 2012.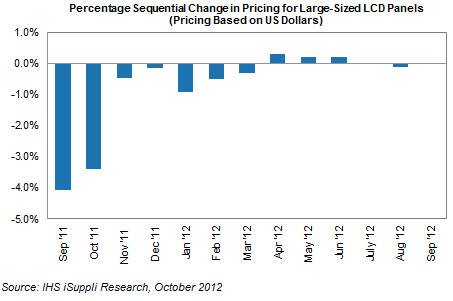 The strong growth in panel demand during August helped restore balance to pricing, after large-sized LCD panel shipments rose 9.9 percent from July. Panel suppliers shipped product, timed to meet demand for the October National Day festivities in China, as well as for the forthcoming year-end holidays in the United States and Europe.
TV panel shipments climb, but uncertainty ahead looms
In the large-sized LCD panel's TV segment, month-over shipments in August climbed 11.1 percent to 20.4 million units. September TV panel prices were up for the 32- and 42-inch, but down for new panel sizes like the 39-inch. The supply of 42-inch panels, in particular, has been coming from South Korean and Taiwanese manufacturers, as Chinese suppliers at present do not have the efficient Generation 7 fabs needed to produce TV panels of that size. Meanwhile the 50-inch saw significant production increase in August and is currently the fastest-growing TV panel size.
Outlook during the remainder of the year for the TV panel segment remains uncertain despite the gains made in August and September, given the various economic troubles of the major markets—a stagnant U.S. economy, slowing growth in China and continuing financial woes in the Eurozone countries. Even so, the stable panel pricing in September, along with the slower rate of price reduction in October, is the result of very carefully controlled fab production utilization rates and a shift in production mix among application.
Monitor panel demand grows
In the monitor panel segment, pricing was up slightly in September compared to the month before, thanks to the strong demand in August and the reduction of monitor panel inventories. Monitor demand, however, has been low throughout the first half, hampering monitor panel suppliers in any of their efforts to raise pricing.
As in the TV panel segment, prospects for monitor panels are unclear for the rest of 2012. To reduce their financial exposure, panel manufacturers have been moving away from producing monitors toward the more profitable TV and tablet panel segments. The South Korean and Taiwanese, in particular, are lessening their involvement in monitor panel production—a shift in market dynamics marked also by the entrance of panel suppliers from China, such as BOE, IVO and CEC.
A few notable market drivers may help stimulate the segment. These include light-emitting diode (LED) panels serving as replacement or upgrade units among consumers; all-in-one (AiO) products over traditional standalone models; and larger, more profitable monitor sizes like the 24- and 27-inch.
Monitor panel shipments were up 11.0 percent in August to 15.4 million units, but shipments are expected to slow down in September when final figures are tallied. Monitor panel pricing will take a hit in October and reverse September's gains, retreating a projected 0.2 percent.
Notebook panel segment remains troubled
In the notebook computer panel segment, the continuing decline of notebook sales among consumers has dented panel pricing since July. Pricing in September was down an average 0.5 to 0.6 percent across notebook panels in general, including for netbooks and the new super-thin Ultrabooks. The industry hopes that Ultrabooks, along with Windows 8, will help strengthen the flagging notebook market. So far though, Ultrabooks have been underperforming due to a price point above what consumers are willing to pay.
The gloomy outlook will persist for the rest of the year, given that panel manufacturers have little leverage to raise prices in negotiations with their buyers—themselves facing a depressed notebook retail market. Notebook panel shipments, while up 15.2 percent in August from July, are expected to be down for the balance of 2012.
Both panel suppliers and notebook brands, however, can look forward to two possible strong growth factors. These include the upcoming launch of Windows 8 toward the end of October, along with the continuing promotion to consumers of Ultrabooks. The combination of the two could revitalize the torpid notebook PC space for the holidays, even though Ultrabooks have underperformed so far and have delivered lower-than-expected sales in the year due to higher price points. Some very aggressive price promotions geared for holiday sales may yet improve Ultrabook sales, IHS iSuppli research shows.  
Overall, price stabilization and an improvement in demand for large-sized LCD panels are factors helping the industry recover after multiple quarters of financial loss. Prospects for the months ahead will depend on the prudence of panel suppliers against overproduction, as well as on the all-important consumer making those much-needed purchases for the upcoming holidays.
Read More >> Large-LCD Panel Prices Flat in September as Inventories Decline