Shipment growth won't return until 2015
After peaking in 2011, global television shipments are expected to decline by 5.4 percent in 2012 as growth in the liquid crystal display (LCD) market stalls, marking the first decrease since the widespread commercialization of flat-panels, according to a new IHS iSuppli Worldwide Television Market Tracker Report from information and analytics provider IHS.
Television shipments reached an all-time high of 255 million units in 2011 but will decline to 241 million this year, the first contraction to occur since IHS iSuppli started tracking televisions. After years of double-digit-percentage increases, LCD TV shipments in 2012 will be flat compared to 2011.
The large drop in volume is due to decreased TV shipments into Japan, down from 19.8 million units in 2011 to just 7.5 million units in 2012, following the end of government subsidies for eco-friendly consumer electronics. Not counting Japan, global TV shipments are set to remain broadly the same in 2012, with growth in developing TV markets like Latin America and the Middle East-Africa offset by the small decline in North America and Europe.
Meanwhile, shipments this year of legacy cathode ray tube televisions (CRT TVs) and plasma display panel televisions (PDP TVs) will continue to fall precipitously. CRT TV volumes will slide from 25.5 million in 2011 to 15.8 million this year, while PDP TV shipments will retreat to 8.9 million in 2012, down from 13.9 million last year.
Growth will return to the television market in 2014. Once this stabilization occurs, the year 2015 will see global shipments return to growth, and sales will rise in countries such as Brazil, India and Indonesia.
By 2017, IHS forecasts 282 million TVs will be shipped worldwide, far more than the current peak in 2011.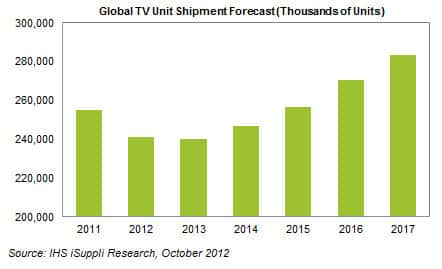 CRT TVs to be non-existent by 2015
One of the major reasons for the decline in unit shipments is the continued fall of CRT TVs. This is not a surprise given the long-term decline of the market, but it is having an impact on the overall shipment of televisions and causing a period of adjustment. By 2016, CRT TV technology will become nonexistent as all regions switch to LCD and organic light-emitting diode (OLED) technology, IHS iSuppli believes.
Currently, there are no CRT TVs being shipped in Western Europe, North America and Japan. Eastern Europe now represents only a sliver of what once was a major shipment destination for the technology. Even the former stronghold of  Latin America is experiencing a decrease in the number of shipments of CRT TVs in the region, with digitization and economic growth spurring the uptake of flat-panels.
The majority of CRT TVs that are shipped now go into the Asia-Pacific region, primarily into India and Indonesia, at about 60 percent, with the next most significant region being the Middle East and Africa—primarily sub-Saharan Africa—at 15 percent. However, even these regions will be phasing out of the CRT-TV business during the next three years.
PDP TVs have reached their peak
Last year was the peak for PDP televisions.
In 2012, two of the largest supporters of PDP—Panasonic and LG Electronics—began scaling back plasma operations. LG reduced shipments in the first half of 2012, as did Panasonic; only Samsung actually increased shipments in 2012 . Plasma TVs do not lack for quality, but with large-sized LCD TVs rapidly reducing their pricing, plasma demand is beginning to decline, and with the exception of Samsung, manufacturers are transitioning away from plasma volumes. 
OLED rising
While the inevitable decline for CRT and PDP TVs continues, OLED TVs will be the next big thing. While the early OLED TVs were launched in 2009 and 2010 by Sony and LG, these were small 11- and 15-inch televisions that were priced extremely high, limiting their appeal among consumers.
In the third quarter, both LG and Samsung are releasing 55-inch OLED TVs into the market. These televisions are initially expected to carry a very high average selling price—at around the $9,000 mark—but the launch will only be the first of many for the market, as Panasonic and Sony also have plans to collaborate on an OLED television sometime in the future.
Revenue for OLED televisions will rise to $13.9 billion in 2016, up from a meager $500.0 million in 2013, on their way to $17.3 billion in 2017. Meanwhile, shipments are expected to rise to 18.3 million units by 2017, up from just 55,000 units this year.
Read More >> TV Shipments Increase in Q2 2012 as Americas Provide Growth
---