Plasma's share of all televisions available at U.S. retailers in July fell to the lowest level since the first quarter of 2011, as rising prices acted as a disincentive to consumers, according to an
IHS iSuppli U.S. TV Price & Specifications Market Tracker
from information and analytics provider IHS (NYSE: IHS).
The share accounted for by plasma of all American TV types available at retail fell to 13.3 percent in July, down from 14.9 percent in June and from 15 percent in July 2011. The last time plasma accounted for such a small percentage of U.S. television retail availability was the first quarter of 2011, when its share dipped to 11.6 percent.
"Despite a brief resurgence in popularity during the second half of last year, the U.S. plasma business is undoubtedly a market on the decline," said Edward Border, analyst for TV technology at IHS. "While this deterioration is part of a long-term global trend, the drop in plasma sales in the U.S. in 2012 is also due to consistently elevated pricing. The decrease in sales has reduced plasma's market share, allowing LCD TVs—plasma's traditional rivals—to further their dominance in the overall U.S. TV space."
Bigger Screens, Bigger Prices
Plasma TV prices climbed on average to $1,621 in July as manufacturers focused on larger screen sizes and higher-value sets. The July rate for plasma remains below the $1,649 level posted in May or the $1,638 mark reached in April, but it is 1.4 percent higher than the June figure of $1,598 and is also above plasma pricing levels from January to March earlier this year, as shown in the figure below.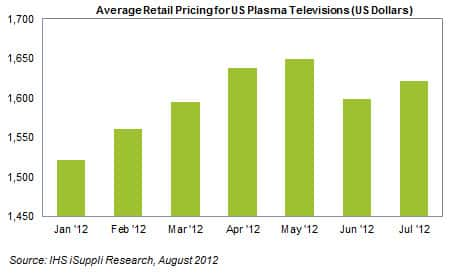 An End of Year Rebound?
Plasma managed to increase its share of the U.S. market at the end of the third and fourth quarters last year, but that was because manufacturers and retailers offered significant price declines during those busy selling seasons. As a result, the average price in retail of plasma TVs fell to $1,494 in December of 2011, the lowest historical total on record.
The same thing can be expected to a lesser degree in 2012, and IHS expects model availability to rise slightly and prices to drop around September this year.
LCD Prices Decline in July
U.S. prices for flat-panel televisions, a category comprising LCD-TVs and plasma sets, had risen to a more than two-year high in the second quarter. However, at the start of the third quarter in July, prices declined for LCD TVs, which account for the majority of the flat-panel market.
The decrease in LCD TV pricing for the month extended to all specifications, including 3-D models, interactive Smart TVs, full high-definition sets as well as thin-panel styles sporting light-emitting diode (LED) technology. Pricing drops were relatively small, reflecting no great sales or discounts, but instead were a consequence of natural erosion as stores competed with one another. More aggressive price declines occurred as the London Olympics geared up, with even more cutthroat competition to ensue among brands and retailers.
Overall, average retail pricing in July for all kinds of televisions in the American market fell to $1,171—down from $1,194 in June, but up from $1,149 the same time a year ago.
Read More > Plasma Prices Rise, LCD Prices Fall Across the Board
---