Although production of hard disk drives (HDDs) is rapidly recovering from the catastrophic Thailand floods that occurred in October, HDD average selling prices (ASPs) are not expected to decline to pre-disaster levels until 2014, according to an IHS iSuppli Memory & Storage  Market Brief report at information and analytics provider IHS (NYSE: IHS).
In the wake of the floods, the ASP for the entire HDD market soared to $66 in the fourth quarter of 2011, up 28 percent from $51 in the third quarter. The ASP held steady at $66 in the first quarter, and is expected to decline marginally to $65 in the second quarter, as presented in the figure below.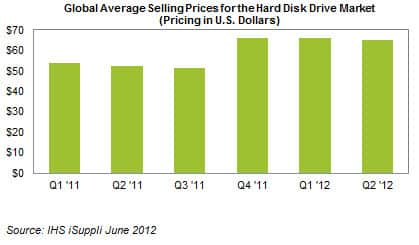 Meanwhile, after flooding caused a 29 percent plunge in shipments in the fourth quarter, HDD production is rising and will recover completely by the third quarter.
Shipments rose by 18 percent to 145 million in the first quarter and by 10 percent to 159 million in the second quarter.
In the third quarter, shipments are expected to rise by another 10 percent to 176 million. This will mark the first time in 2012 that shipments will exceed their 2011 quarterly levels, up from 173 million in the third quarter of 2011.
Despite exceeding pre-flood shipment levels in the third quarter, pricing is expected to remain inflated.
"HDD manufacturers now have greater pricing power than they did in 2011, allowing them to keep ASPs steady," said Fang Zhang, analyst for storage systems at IHS. "With the two mega-mergers between Seagate/Samsung and Western Digital/Hitachi GST, the two top suppliers held 85 percent of HDD market share in the first quarter 2012. This was up from 62 percent in the third quarter of 2011, before the mergers. The concentration of market share has resulted in an oligarchy where the top players can control pricing and are able to keep ASPs at a relatively high level."
Potentates of Pricing
Owing to concerns over HDD availability, an increasing number of PC original equipment manufacturers (OEMs) in the second quarter have signed long-term agreements (LTAs) with HDD makers. These LTAs provide shipment guarantees, but lock in pricing that is approximately 20 percent higher than pre-flood levels.
Even if all the OEMs stop entering into LTAs by the end of 2012, it would take about four quarters with a 6 percent sequential decline in the HDD ASP to reach the pre-flood pricing level. However, given that there have been no consecutive 6 percent sequential quarterly declines during the past three years, the likelihood is remote that this would happen now and that HDD pricing will decline accordingly. 
Pricing Particulars
Beyond the supply-side factors, demand-related issues also will contribute to inflated HDD pricing throughout 2012 and 2013.
From local drives for media content, to cloud storage of social media and corporate data, the requirement for large quantities of HDD capacity continues to increase.
Meanwhile, PC sales are also projected to climb in 2012. Growth will be driven by the rising adoption of Intel Corp.'s Ivy Bridge microprocessor, the surging sales of ultrabooks in the second half of the year and the proliferation of Microsoft Corp.'s new Windows 8 operating system.
Read More > Hard Disk Drive Pricing: Will it Reach Pre-Flood Level in the Near Future?
---