Driven by the rise of ultrabooks, the release of Microsoft Corp.'s Windows 8 operating system and the arrival of Intel Corp.'s Ivy Bridge microprocessor, China's PC market in 2012 will expand by a robust 13 percent rate compared to 2011, according to the IHS iSuppli China Research Service at information and analytics provider IHS (NYSE: IHS).
"China has become the most important PC market worldwide, representing not only the vast majority of global production, but also a major source of demand," said Elaine Zhi, analyst for China electronics research at IHS. "And amid a period of slowing PC sales growth worldwide, China's consumers and businesses continue to generate healthy increases."
China accounts for 22 percent of global demand and contributing more than 90 percent of total production. PC shipments in the country in 2012 will reach 83.6 million units, up from 73.9 million units in 2011 and from 67.0 million units in 2010, as shown in the figure below.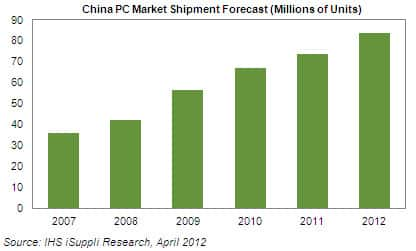 Ultrabooks are slim and light notebook PCs that deliver five or more hours of battery life in between charges and boot times of 7 seconds or less. Because of these features, ultrabooks have the opportunity to become the next growth driver for the notebook industry.
Windows 8 requires less powerful processors than Windows 7 and consumes 30 percent less internal memory. It's also the first Windows operating system to support the low-cost ARM microprocessor platform.
These features will yield new PCs that are more affordable.
With Windows 8 and Intel's Ivy Bridge expected to arrive in late 2012, PC market growth this year will be weighted toward the end of the year.
HDD Setback won't Stall Desktops
In China's desktop PC market, annual growth is expected to rise to 8 percent in 2012, up from 5 percent in 2011.
While the Thailand floods last year severely impacted the global supply of hard disk drives (HDD), HDD output is now predicted to recover to its original level by the third quarter this year. Any problems that may have been brought on by the previous HDD supply shortfall will not affect the China desktop market, projected to see continued steady growth in 2012.
The country's commercial desktop PC market is also full of new opportunities, with many companies in the medical, traffic, energy and utilities industries looking to replace or purchase new systems in 2012.
Ultrabooks Rising
As for the notebook PC market in China, IHS predicts sales will gain momentum from the introduction of ultrabooks, with PC makers such as Lenovo, Acer, Asustek, Hewlett-Packard and Samsung all devoted to developing new ultrabook models. IHS forecasts the ultrabook will account for 15 to 20 percent of total notebook PC shipments in China in 2012.
Even so, the market appears to have inflated expectations for ultrabook sales, mainly because the ultrabook's bill of materials (BOM) remains too high due to strict requirements in hardware design. This will drive up prices and limit shipment growth.
For now the price of the ultrabook hews very closely to that of Apple's MacBook Air, the competing platform most similar to the ultrabook that the PC market hopes to dislodge. But in order for ultrabooks to compete, the super-thin computers will need better pricing and performance than the MacBook Air.
That means coming somewhere close to the mainstream notebook price in China's domestic market of around RMB 4,000 to 6,000.
Apple's iPad products are popular among end users and are sold at competitive prices in China, which means the ultrabook has a tough competitive battle ahead. Sales of Ultrabooks, now in their second generation, are likely to pick up robustly after the official launch of Windows 8 and Ivy Bridge later this year.
Lenovo on Top
In China's domestic PC market, Lenovo remains the leader of both the consumer and commercial PC segments with an overall 35.5 percent market share. In the third quarter of 2011, Lenovo surpassed Dell to become the second-largest global commercial notebook PC supplier.
For its part, Acer has recovered from continuous losses and has become the second-largest notebook market in China with a 9.5 percent market share, followed by Dell. This is mainly because of Acer's fast development in all-in-one PCs and ultrabooks.
Although Hewlett-Packard is still the top PC maker globally, its rank in China has declined to fifth place with a 5.3 percent market share. In a bid to regain share, HP intends to change its webOS to the upcoming Windows 8 and bring out more tablets in the second half of 2012.
Learn More > IHS iSuppli China Research Service
---