Smartphone makers' expanding appetite for active matrix organic light-emitting diode (AMOLED) displays as well as growth in shipments to Chinese vendors helped shore up the small- and medium-sized display (SMD) market in February, illustrating the growing influence of the fledgling AMOLED technology, according to an IHS iSuppli Small and Medium Displays PriceTrak report from information and analysis provider IHS.
Total shipments of SMD panels used in products including mobile handsets, tablets and digital still cameras reached 186.8 million units in February, up 9 percent from 171.3 million units in January. The increase brought to an end four straight months of shipment declines that started in October 2011. The six major Taiwanese producers in the SMD market accounted for 146.8 million unit shipments, while the two South Korean suppliers made up the remaining 40.0 million units of the February total.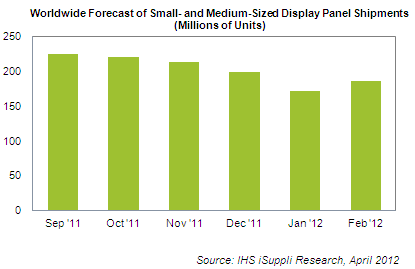 A rise in demand for AMOLED displays on the one hand, coupled with increased orders from Chinese vendors on the other, helped prevent what could have been a decline in shipments for the overall SMD market during a traditionally slow season, IHS iSuppli believes. AMOLED displays, lighter in weight and featuring more saturated colors compared to traditional LCD panels, have been gaining popularity in smartphones, with companies like Samsung Electronics, Nokia Corp. and HTC Corp. all selling mobile handsets that feature AMOLED displays.
Shipments of AMOLED mobile handset displays are estimated to increase sequentially by 14 percent in the first quarter of this year and by 80 percent from the same time a year ago, IHS iSuppli data indicate. The displays are set to gain further traction in the SMD space as the panels are adopted by other applications, like tablet PCs.
Samsung Mobile Display Co. currently drives the AMOLED market, as it has the largest capacity. The company's main competitor is LG Display Co., although LG Display recently redirected its AMOLED focus away from mobile handsets toward the TV market. Meanwhile, Taiwanese and Chinese suppliers are working to improve their competitive positioning in hopes of catching up with Samsung and LG in AMOLED production.
Taiwanese supplier AU Optronics Corp. is making particularly strong progress, with likely orders from handset manufacturer HTC and Sony. AU Optronics is expected to start shipping small volumes of AMOLED displays starting in the second quarter, and is apparently planning for AMOLED production at a sixth-generation fab. Fellow Taiwanese manufacturer ChiMei Innolux Corp. is also anticipated to start AMOLED panel production sometime this year. All told, Taiwan's success in the AMOLED display market will be dependent on the capability of its suppliers to obtain orders from top-tier smartphone makers like Nokia, HTC and Sony, IHS iSuppli believes.
In mobile phones, AMOLED prices increased 0.9 percent to an average of $54 in February, due to the introduction of new higher-specification AMOLED displays. A price premium of 15 to 20 percent is still commanded by AMOLED displays over comparable low-temperature polysilicon (LTPS) LCD displays with touch capabilities. For example, a 4.3-inch QHD "Super" AMOLED display for mobile phones with an integrated on-cell touch solution, boasting QHD resolution at 960 by 540 pixels, was priced at $51 in January. Meanwhile, a comparable LTPS LCD plus projected capacitive touch solution together had a total price of $42. The current limited supply of AMOLEDs—along with the distinct advantage of the on-cell touch solution provided by Super AMOLED displays—is helping AMOLEDs maintain their price premium in the market.
In tablets, average panel prices retreated 0.4 percent to reach $48.87, down from the January average of $49.06. AMOLED tablet displays, meanwhile, stayed at about $100. LG and Samsung remain the pre-eminent suppliers for the tablet PC display market—their dominance due to high capacity and their capability to provide reliable shipments to Apple for its iPad, to Amazon for its Kindle, and to Samsung Electronics for its Galaxy Tab.
Read More > Increased AMOLED Display Demand Preserves Premium Pricing