The story of the iPhone thus far is one of growth for Apple as well as for mobile network operators (MNOs). By identifying key markets, properly timing the release of new products, and striking new deals with network operators, Apple has been able to sustain growth with their relatively young product line. With the blockbuster success of the iPhone 4S, Apple achieved a 89.5% CAGR in unit shipments between 2008 and 2011, demonstrating that the iPhone still has tremendous market appeal and growth momentum. Even with the associated costs of subsidizing such an expensive device, this continual growth is very attractive for MNOs who are looking to increase subscribers and drive up ARPUs.
For mobile network operators, the iPhone has proven its potential for driving subscriber growth, moving customers toward more valuable data-centric cell phone plans and retaining current users. Sprint, for example, witnessed a steady decline in subscribers until the introduction of the iPhone 4S last October, which boosted its subscriber base to its highest ever (55 million customers) at the end of 2011. With 40 percent of the 1.8 million iPhone sales attributed to new customers in Q4 2011, it is clear that the iPhone was a huge contributor to this growth. AT&T experienced a similar growth in subscribers with the introduction of the first iPhone in 2007, with a gross customer addition of 20.1 million for that year, compared to 18.5 million in 2005. Similarly, Verizon added 1.3 million retail postpaid subscribers the first quarter after the iPhone was introduced. Needless to say, the iPhone is a proven catalyst for increasing subscribers.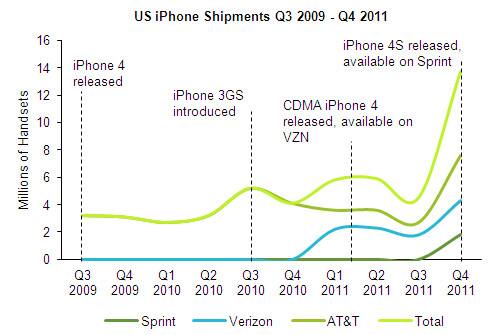 Source: IHS iSuppli Research Feb 2012
North America in particular continues to be an expanding market for Apple. Across the top three carriers, North American sales accounted for over a third of total iPhone shipments worldwide (13.7 million units sold) in Q4 2011. Apple's continued growth in this region is largely due to their strategy of releasing new products, generating demand and making new contracts with mobile network operators at the right time.
Even as iPhones begin to penetrate the addressable smartphone market in the US, it will be the growth of smartphones globally that will help to sustain their long term growth. Only two thirds of the iPhones sold last quarter were sold outside North America, pointing to a huge opportunity for growth elsewhere in the world, especially in emerging markets. China in particular has been singled out by Apple as the next big market. In North America, smartphones had a 60% penetration of total mobile handsets whereas regions like China had a 22% smartphone penetration (based on IHS iSuppli service xyz). In 2015 however, the smartphone penetration according to IHS iSuppli data in China is expected to grow to 49%, pointing to a huge opportunity for all smartphone OEMs.
Read More About Apple's iPhone > Apple Leads with Mixed 3G Technology Adoption in Mobile Handsets