Cautious brands will try to rein in new supplies to the channel and stem further price slippage
In what appears to be a decisive turning point, U.S. flat-panel TV shipments are projected to dip for the first time on an annual basis this year, ending an unbroken string of growth since the market began.
Shipments in 2012 of flat-panel TVs into the American market are forecast to decline to 37.1 million units, down 5 percent from 39.1 million units in 2011, according to an IHS iSuppli U.S. TV market tracker report from information and analysis provider IHS. Only last year, shipments had inched up 1 percent from 38.6 million units in 2010.
The shipments—covering the dominant liquid crystal display television (LCD TV) sector, the smaller plasma TV segment and a negligible, moribund rear-projection TV market—apparently peaked last year. Moving forward, projections show the shipments continuing to weaken for the next three years until at least 2015.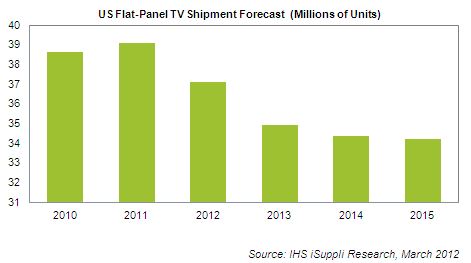 The U.S. flat-panel TV market has never encountered a down year, even at the height of the recession in 2008 and 2009. The decline starting this year suggests that demand may have crested for the mature U.S. TV market, which is driven by consumers replacing their older sets with models boasting newer features—unlike other parts of the world where a vibrant, untapped market exists for buyers making their first-ever purchase of flat-panel sets.
In retrospect, brands were also too optimistic last year, contributing to this year's expected historic downturn. Believing that consumers were finally ready to buy new TVs and part with their money, manufacturers increased shipments in the first quarter last year—only to be proven wrong when the hoped-for sales failed to materialize. A negative chain reaction then ensued that lasted throughout the year, with sets being very aggressively priced toward the third and fourth quarters to make up for a frail first half. The approach hurt profits horribly across the board for almost every vendor.
As a result of last year's bitter prescriptive, brands will be very cautious in 2012. Manufacturers will attempt to control new shipments into the U.S. market, so that prices remain steady and won't drive as much demand as last year. The attempt to rein in pricing could also prove dicey, possibly risking the ire of a purchasing public used to discounting or a pattern of gradually lower prices. The overall effect will serve to inhibit shipments this year.
A silver cloud to the lining will be that despite the projected shipment decline, the industry as a whole expects to be more profitable, with less discounting bringing in more revenue.
This year will also see LCD TVs with light-emitting diode (LED) backlighting catapult to dominance in the United States for the first time over older-generation, slightly bulkier LCD sets featuring Cold Cathode Fluorescent Lamp (CCFL) technology. U.S. shipments of LED-backlit sets will reach 23.7 million units, compared to 8.7 million for CCFL models. Only last year, the tables were turned, with CCFL claiming higher shipment numbers at 18.8 million units, against 14.5 million for LED sets.
LED-backlit sets are expected to see rapid double-digit growth in the upcoming years as brands focus on marketing this feature and making LED-based models standard in their lineup. The sets will emerge in small- to medium-sized TV panels—specifically in the sub-40-inch range.
While U.S. flat-panel TV shipments are projected to move down starting this year, the market continues to aim for increasingly more advanced features in new sets being produced, in order to continue luring customers into new purchases. Trends currently taking shape in the U.S. LCD TV market include a continuing transition to larger sizes; a steady move from 120-hertz refresh rates toward 240 Hz and even 480 Hz; standardization of the Full HD 1080p specification in sets; inclusion of Internet-enabled capabilities; and increasing emphasis where 3-D is concerned toward passive 3-D displays that include battery-free, less expensive 3-D glasses.
Learn More > LED TV Continues to Grow in U.S. TV Market 
---