While UFS is faster, eMMC will retain use among many mobile handsets, tablets and other consumer items
W
hile

the

a

r

r

i

v

al

of

pa

r

ts

confo

r

ming

to

the

new

Un

i

v

ersal

Flash

Stora

g

e

(UFS)

specification

will

spur

new

te

c

hnolo

g

y

competition

in

the

mar

k

et

for

mobile

NAND

flash

memo

r

y

in

2013,

the

older

Embed

ded

Multimedia

Memo

r

y

Card

(eMMC)

standard

is expected

to

retain

its

dominance

in

many

cellphones

and

tablet

s

,

with

shipments

rising

b

y

a

robust

37

percent

for

the

yea

r

.
Shipments of eMMC solutions in 2013 are forecast to reach 711.1 million units, up from 520.3 million in 2012, according to an IHS iSuppli Mobile & Embedded Memory market brief from information and analysis provider IHS.
No forecast is yet available for UFS, but eMMC with its enhanced security and respectable performance is expected to continue enjoying strong growth until at least 2015, when shipments to handsets and other consumer electronic items reach 927.6 million units.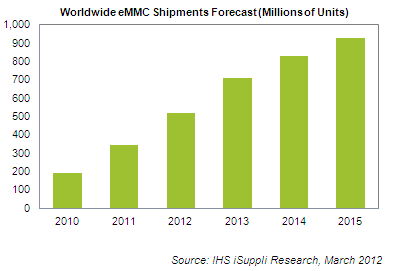 But while eMMC will continue to dominate the market for cellphone NAND memory for the next few years, the increasing demand for data security in wireless platforms will favor the rising usage of UFS in the future.
In particular, UFS was created because manufacturers realized that cellphone data must have the same level of security as it does in computers, especially at a time when mobile handsets are becoming more important than PCs in the lives of consumers. To this end, UFS will compete with eMMC at the high end of the mobile market, finding design wins in smartphones as well as advanced media tablets.
Performance and security are the key focus points for UFS, which delivers a maximum data transfer speed of 384 megabytes per second. In particular, upcoming productivity-based tablets such as those running Windows 8 will be ideal for UFS, as the Windows kernel is built around traditional storage interfaces. The new super-thin Ultrabook computers promoted by Intel Corp., with their flexible product development roadmap, also could be a potentially robust application for UFS.
But Don't Count Out eMMC Just Yet
Still, UFS parts won't be as cost competitive as eMMC given their high manufacturing expense. As a result, smartphone manufacturers will not share the same urgency to switch their storage needs to eMMC, even for bleeding-edge smartphone platforms.
Moreover, the most current eMMC 4.5 revision with up to 200 megabyte-per-second performance not only is sufficient for even high-end devices, it also provides a far smoother transition than UFS for mainstream device platforms in terms of system compatibility. eMMC is likewise much more capable than UFS of incorporating triple-level-cell (TLC) NAND, which provides higher-capacity storage in the same area—an important consideration in mobile devices, already constrained by limited internal real estate.
eMMC has a further card up its sleeve. An earlier-specification product known as eMMC 4.41 continues to claim a sizable contingent of devices that prefer to stick to the older eMMC version instead of incurring the additional expense of switching to eMMC 4.5. With the 4.41 revision satisfying the performance and security needs of most device segments, it is considered the most effective way to utilize high- density NAND for many consumer electronics applications, including entry-level smartphones, ereaders, TVs, set-top boxes and portable music players. And with Google's Android OS requiring 4 gigabytes of storage, there is even more impetus for manufacturers of portable handsets to turn to eMMC to obtain low-cost flash memory and trim their costs as much as possible.
In the case of  Apple, the tremendous scale of the company makes it more cost effective for the company to eschew eMMC in favor of raw NAND. Apple also recently purchased controller company Anobit, which can extract better performance from raw NAND, unlike other device vendors that use eMMC because it is a finished solution and easier to implement.
All told, UFS will be unable to compete with eMMC storage in most mainstream devices for sometime after launch, despite the impressive performance numbers of UFS, IHS iSuppli predicts. This is especially true because even though eMMC development looks to be finished with its current 4.5 spec, the latest iteration of the product extends its working future by several more years and is in no danger of becoming obsolete anytime soon.
Because of this, one should expect the faster UFS solution to coexist with low-cost eMMC products through at least 2015.
Read More > UFS and eMMC: Coexistence
---