With their versatile features and wide-ranging capabilities, multipurpose equipment such as smartphones and tablets will continue to cannibalize the sales of digital still cameras and other dedicated consumer electronic items, culminating in the permanent eclipse of such traditional media-rendering gear by 2015, according to an IHS iSuppli Consumer Platforms topical report from information and analysis provider IHS.
A study shows that the combined market share in the media-rendering space during 2011 of smartphones and tablets surpassed the aggregate market of traditional items like digital still cameras, camcorders, handheld gaming equipment and portable media players. Last year, smartphones ruled with a commanding 55 percent portion, while share of the media tablet after just one year—exemplified by the entry in 2010 of Apple Inc.'s iPad—already stood at  8 percent. In comparison, traditional media devices that have been around much longer showed less impressive results overall: 17 percent share for portable media players, 14 percent for digital still cameras, 4 percent for handheld gaming, and 2 percent for camcorders.
By 2015, smartphones and tablets will become even more dominant players in the space, while other media-rendering de- vices will see their individual market portions dwindle across the board.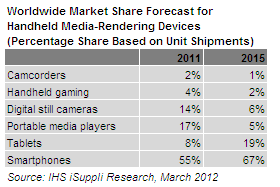 To be sure, handheld devices are capable of delivering superior quality of content to the consumer based on their core purpose. Even so, the markets for dedicated platforms like cameras and gaming are shrinking because consumers now de- sire all-in-one or "do it all" devices, preferring such multipur- pose equipment to owning multiple devices that mostly focus on one form of content delivery. Smartphones and tablets clearly fall into the all-in-one realm of flexible tools, which accounts for their continuing surge in popularity and sales, IHS believes.
In the handheld gaming segment, the recent launch by Microsoft Corp. of its Windows 7 Phone and by Sony Corp. of the Xperia Play phone is a clear indication of how the two companies are taking share away from dedicated handheld gaming platforms like the DS from Nintendo Corp. The world's best-selling smartphone, the iPhone, also is a major player here, with a sizable offering of games available through the Apple App Store.
Warning signs for the handheld segment first emerged in 2011 as casual gamers started to migrate from dedicated gaming devices to tablets and smartphones, but 2012 likely will be the first year in which handheld sales will be impacted by the migration. Unit shipments and revenues alike for dedicated handheld gaming equipment will start declining in 2014, even as smartphones and tablets continue to enjoy an increase in numbers.
In particular, media tablets like the iPad will pose a definite threat to handheld gaming devices, as tablet graphic hardware becomes exponentially more powerful and their larger screens provide additional incentive to shift to the devices.
As for cameras, camera phones already outnumber digital still cameras and camcorders in shipment units, with camera phones estimated to own 89 percent of the total image capture market in 2011. This is largely due to the ubiquity of mobile handsets, given that most of the population today owns a cellphone with at least one primary camera. Low-end digital still cameras are particularly vulnerable as they encounter stiff opposition from cellphone cameras, which have grown to become the primary camera for many consumers. Shipments of digital still cameras have been on a decline since they last spiked in 2010, and the segment will see a loss of some 40 million units between 2010 and 2015.
Still, opportunities exist in the dedicated digital still camera segment, especially for higher-end models known as digital single-lens reflex (DSLR) cameras featuring superior picture quality and various lens options. Growth is also in the cards for Wi-Fi-enabled cameras that can send photos wirelessly to an Internet network, PC or printer—a highly prized feature that will allow such Wi-Fi camera models to compete with smartphones now capable of uploading photos quickly to social networks on the Web.
Wi-Fi is likewise a trend in many high-definition camcorders, which continue to evolve in technology and are more Web-friendly than ever before, making video sharing and sending videos to sites like You- Tube easier. Nonetheless, camcorder shipments also are expected to decline starting in 2014.
In the area of portable media players, the segment has been in rapid retreat since at least 2010. The market is experiencing not only a reduction in growth but an accelerating fall, with shipments by 2015 nearly 100 million units less than they were in 2010. Once ultra-hot, portable media players are on an irreversible decline—not because people are no longer interested in music, but because devices like smartphones include music-playing functionality as part of a much broader suite of features.
Even a high-end player such as Apple's iPod is not immune to the unfavorable trends sweeping the segment, and its great popularity will prove unable to stem the market's continuing decline in the foreseeable future.
For these traditional media-rendering equipment, the reality is that multipurpose devices like smartphones and tablets are here to stay. The consumer electronics market is changing as a whole, and "do it all" capabilities are now a prerequisite for any new device entering the handheld space, IHS believes.
Learn More > Media Tablets and Smartphones Eat Into Pro- prietary Handheld CE Devices