Global router shipments are poised to continue robust growth in 2012 after principal buyers of the equipment re-entered the market last year and further left behind the troubled days of the recession, in a move likely to benefit EMS providers that have been heavily utilized by router OEMs for a long time, according to an IHS iSuppli Global OEM Manufacturing & Design market tracker report from information and analysis provider IHS.
Shipments of routers this year are projected to reach 1.56 million units, up 9 percent from 1.43 million in 2010. While expansion this year is down from the notable 16 percent expansion of 2010, the industry outlook remains solid. The next two years actually will exhibit slightly improved growth prospects averaging in the 10 percent range, after which the market moderates and stabilizes. By 2015, router shipments worldwide are expected to hit 1.97 million units, equivalent to a five-year compound annual growth rate starting from 2010 of approximately 10 percent.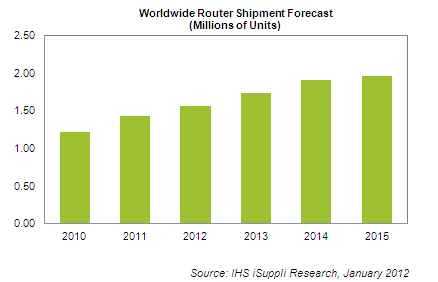 The router market regained strength after losing ground in the wake of the global economic contraction of 2008 and 2009. But thanks to the welcome resumption of capital expenditures among telecommunications carriers and cable service providers to upgrade and replace their old equipment, the industry is thrumming with activity once again.
One factor, however, could potentially slow down future growth. While no one is predicting a return of the industry to the difficult times of the recession, the European sovereign debt crisis—already im- pacting significant areas of the global economy—may yet cast uncertainties in router prospects moving forward, IHS believes.
Router systems are software-controlled devices that determine the network path for data transmission occurring not just between devices within a network, but also between devices in different networks.
Compared to products like mobile handsets and personal computers that are clearly oriented toward the consumer segment of the populace, the router market demonstrates slightly delayed growth or decline patterns. This is because of the enterprise product nature of the equipment catering to the business sector, and the longer response time of corporate buyers to the market also factors into the latency equation.
Identifying the Major Router Players and their Outsourced Manufacturing Partners
The router industry in 2011 remained highly concentrated just as before, leaving little room for small competitors. The Top 5 router original equipment manufacturers (OEM) included Cisco Systems Inc. of San Jose, Calif.; Juniper Networks of Sunnyvale, Calif., French-based Alcatel-Lucent; Huawei Technologies Co. Ltd from China; and Tellabs Inc. of Illinois. Together, the five represented 97 percent of the total router market, with Cisco alone accounting for almost three-fifths market share.
Except for Huawei, all the major router manufacturers outsourced the actual production of  their equipment to electronic manufacturing services (EMS) outfits engaged in contract manufacturing. EMS providers produced 93 percent of  worldwide router shipments in 2011, while the remainder was produced in-house by the likes of Huawei.
In selecting their contract partners, router manufacturers look for unique outsourcing characteristics. These include product prototyping and turnkey support; global manufacturing and logistics capabilities; mass production and cost reduction; configure-to-order support; and service and repair support.
Further cementing the relationship between router OEM and contract partner were the high costs involved for OEMs when switching, allowing EMS providers to leverage existing relationships. Such a concentration of outsourced production among current EMS players also means it will be difficult for other EMS providers to enter the manufacturing space.
The Top 5 EMS providers for router OEMs are Singapore-based  Flextronics International Ltd., mainly supplying to Cisco; Celestica Inc. of Canada, providing largely to its largest customer in Alcatel- Lucent; and Jabil Circuit Inc. from Florida, which also manufactures for Cisco.
Read More > Router Outsourcing Driven by Changing Strategies of Chinese OEMs