Autonomous vehicles that operate themselves with minimal human intervention may well represent the new wave of driving in the future, but the market for vehicle sensors proffering such engineering marvels is already available today and will keep expanding by leaps and bounds during the next few years, according to IHS Automotive research from information and analysis provider IHS.
Park-assist cameras and lane departure warning cameras just two of the sensors that will figure in autonomous driving applications are expected to post significant growth every year for the next five years. Shipments in 2012 of such sensors will reach 3.4 million units, double the 1.7 million units of last year, on their way to some 18.0 million units by 2015 a remarkable expansion almost 20 times the sensors' 2010 level of just 939,200 units.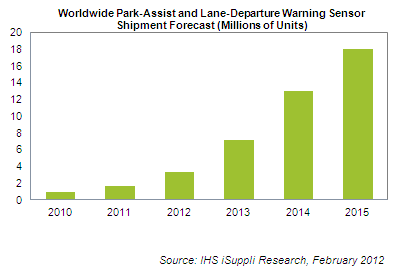 Much is being made of  the ongoing research and development of  autonomous cars, also known as robotic or driverless vehicles, which can sense the environment and navigate on its own. And while a person can choose the destination, humans would not be required to perform the mechanical operation of the vehicle.
The basis for autonomous vehicle control is environmental and situational awareness the same awareness relied upon by current driver assistance systems. Such awareness is provided by a variety of sensors in and around the vehicle, monitoring not only the area ahead but also to the sides and rear, as well as inside the various vehicle control systems. Park assist cameras, for instance, help drivers park a vehicle without hitting any object or another vehicle, while lane departure warning sensors detect when a car is at risk of lane exit due to driver inattention or misjudgment.
While cameras and radar are dominant in today's vehicles, a remote sensing technology known as light detection and ranging (LIDAR) is being used in at least one prototype of autonomous driving that of Google Corp.'s driverless car. The Google project outfits a Toyota Motor Corp. Prius with one LIDAR sensor from Velodyne LIDAR Inc., utilizing 64 lasers spinning at approximately 900 revolutions per minute, to create a 360 degree view of the area around the vehicle, according to a report from Wired magazine.
That extensive coverage map is complemented by three radar sensors in front, one at the back, and one high resolution camera mounted on the windshield looking forward all providing a second take on what is occurring around the vehicle. Together, a comprehensive mapping of the surrounding objects and area is generated, analyzed and their future predicted 20 times per second, said Wired.
The network of sensors implemented in the Google Prius prototype is already available in several production models from various car manufacturers today, offering both lateral and longitudinal autonomous control. What's left is to combine these systems and all of their sensory data into one comprehensive control system for all of the automobile's actions, IHS believes, though that is much easier said than done.
Another car, the Mercedes Benz S-Class, is also described as possessing nearly every advanced safety and driver assistance system that the German manufacturer has to offer. Forward radar both long and short range is accompanied by a forward facing camera sensor and complemented by short range radar in the rear quarters. Additional sensors monitor vehicle systems and driver input in order to prepare the electronic stability control system for oversteering on a curve or alert the driver to possible drowsiness or collision. All told, such sensors and systems monitor the areas most dangerous to a driver today the forward area through which the vehicle is moving, and the blind spot behind and to the sides.
For the automotive industry, one challenge in launching autonomous vehicles will be how to introduce the concept to a generally cautious purchasing public, even though driverless systems theoretically can lighten a driver's workload by automating mundane tasks such as parallel parking, or offer auxiliary support in the event of driver error or impairment. The industry knows that a car and the act of driving can constitute an emotional experience for many, so it needs to tread carefully on how to present the possible benefits of a new system, even if it has the potential to minimize hazards or save lives.
Meanwhile, those outside the automotive industry entities like Google increasingly are looking at personal mobility in relation to the automobile from a blank slate without the metaphorical shackles of those operating within the industry. These players are continually defining processes, honing systems and preparing the autonomous vehicle for what feels like the inevitable spotlight.
Those two ends of the spectrum will meet somewhere in the middle, IHS believes, with the resulting automotive innovation offering a fresh sense of enhanced safety and renewed freedom of mobility.
Read More > IHS iSuppli Automotive Research Portal on Advanced Driver Systems