The wireless technology known as 4G Long Term Evolution (LTE) is expected to claim the lion's share of wireless infrastructure capital spending by next year as mobile carriers migrate definitively to that next- generation standard, according to an IHS iSuppli Wireless Communications topical report from information and analysis provider IHS.
Capital spending on LTE technology is projected to reach $24.3 billion in 2013, overtaking for the first time the 3.5G space, which will end its five-year run this year as the dominant category in wireless infrastructure spending. 4G expenditures first appeared in 2007, and the leap to the apex will take place within a relatively short span of six years. In comparison, 3.5G expenditures were first tallied in 2005 and then overtook what had been the dominant 2.5 category in three years.
The climb by 4G LTE will be especially spectacular in 2013, up a stunning 179 percent from $8.7 billion this year, on top of a 103 percent surge in 2012.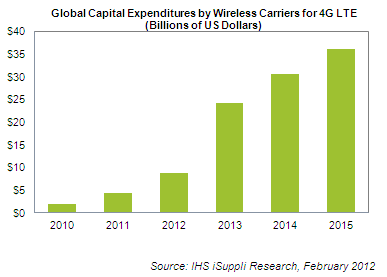 While 3.5G is still the dominant air interface technology in the mobile infrastructure market, the 4G LTE space has been gaining momentum, beginning in the second half of 2009 when some wireless operators in Europe, North America, Japan and South Korea started to deploy the technology. The number of mobile network operators that are trialing, deploying or commercially operating 4G LTE networks now has grown to about 200 worldwide, up from 160 in 2010.
For infrastructure manufacturers and semiconductor suppliers, LTE represents a revenue growth potential and an opportunity to develop a long-term relationship with carriers. To this end, manufacturers are developing hardware solutions labeled as "Any G to LTE" that support easy software upgrades to LTE, while continuing to be backward compatible with the legacy 2.5G and 2.75G wireless technologies still in use in some parts of the world.
The vendors that will win in the transition to 4G are those that can demonstrate cost-effective, upgradable solutions capable of delivering performance as defined in the LTE specifications. Supporting peak data significantly higher than the maximum data rates of 3.5G/3.7G technologies, LTE as an all- Internet Protocol networking technology also offers advantages like reduced latency, flexible bandwidth provisioning, and lower cost-per-data-bit transmitted while data traffic grows exponentially on networks.
Like the vendors now competing in the 4G area, silicon suppliers also must be ready to meet the challenges and demands that LTE solutions place on semiconductors and hardware architectures, with suppliers able to deliver price competitive solutions.
In particular, the 4G networks of the future will have to evolve to more heterogeneous architectures such as metro cells, which will be used to augment coverage or fill holes in areas of high data traffic. These metro cells also known as small cells will be used alongside Wi-Fi hotspots to provide coverage in public regions, IHS believes.
At present, semiconductor suppliers are trying to address the challenge of metro cells with solutions that reflect their heritage. For instance, Texas Instruments and Freescale Semiconductor are targeting the metro cell market with Digital Signal Processing (DSP) solutions. Meanwhile, companies like PicoChip and Broadcom are trying to address the same with scaled-up versions of their System-on-Chip solutions for femto base stations.
To be sure, such solutions will require tremendous flexibility in networking equipment, and the solutions likely will have to be tailored to the needs of the individual operators. And even for a given operator, such needs will vary by location.
All told, global carrier spending on wireless infrastructure will grow from $42.5 billion in 2011 to $45.1 billion in 2015. The share of 4G spending by 2015 will reach $36.1 billion, compared to just $9.0 billion for 3.5G. Carriers this year also will spend approximately $21.4 billion on cables, plants and site procurements, as well as $74.3 billion on maintenance and software upgrades.
Read More > 2011 Mobile Data Explosion Driving Transition to Heterogeneous Networking Architectures and Small Cells