Prices for large-sized liquid crystal display (LCD) panels stabilized in December 2011 after five straight months of  decline, as the overall panel situation improved because of  better than expected  sales and lower production rates from LCD fabs, according to an IHS iSuppli LCD PriceTrak report from informstion and analysis provider IHS.
Large-sized LCD panel pricing was down by just 0.1 percent in December a negligible rate of decrease tantamount to the market steadying out compared to the 0.5 percent pricing loss incurred in November and to the runaway 3 or 4 percent contractions regularly incurred for most of the second half of last year.
The last time that panel pricing came close to December's minimal level of decrease occurred in a two-month span during May and June 2011, when pricing had the second-smallest drop at 0.2 percent. December's panel price also showed the smallest month-to-month change in all of the prior 12 months. The overall pricing for large-sized LCD panels reflects the average taken among the three major markets for the panels, including televisions, monitors and notebooks.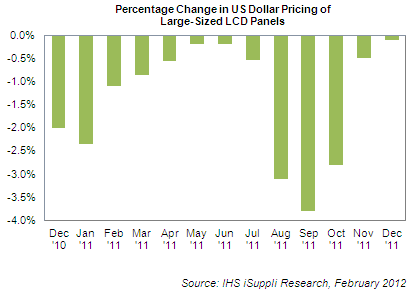 The December rate can be attributed to lean inventories throughout the supply chain and lower fab utilization rates, after suppliers were forced to cut production in order to control supply and stem financial losses. Sales also picked up in the United States and China, helping to further boost the market. Nonetheless, there will be little room for suppliers to increase pricing even after the market has evened out at this time, due to continuing uncertainties in the global economy. China demand also is expected to decline after the Lunar New Year sales in January, IHS believes.
The two major glass substrate companies that have made cuts in production are New York-based Corning Inc., as well as Asahi Glass Co. of Tokyo. Both firms in the fourth quarter slashed capacity in glass substrates, an essential component in LCD panel manufacturing, to reduce oversupply in the face of utilization rates cuts by LCD fabs. Large-sized LCD fab capacity was running at 78 percent in December compared to 86 percent a year earlier. But because of these cuts, glass supply may be limited if panel demand improves in the first half of 2012 and panel suppliers decide to ramp up production.
All Three Panel Applications Fared Well Individually
For the TV application, panel pricing fell 0.2 percent in December compared to a 0.6 percent contraction in November. TV panel prices, however, are expected to remain flat in the first quarter of 2012.
Global inventories in the worldwide retail channel reached a four- to five-week low in January after robust sales during holidays in the United States and the Lunar New Year holiday in China. Such a development may lead to some inventories being built up by brands for future months as well as for new model introductions. In particular, many new TV sizes such as 39-inch and 50-inch panels are expected to be introduced. Brands also are exploring 60-inch-and-above sizes for the niche market, after the sizes proved successful during holiday sales.
Overall, TV panel inventories for cell and modules have declined to less than 25 days, compared to their usual 30-day average. Moving forward, LCD TV panel production will be lower in the first quarter because of the Lunar New Year holidays observed in the Asian manufacturing zones where the panels are made, as well as the shorter month in February.
In comparison to the TV space, panel pricing was down 0.1 percent in December for the monitor and notebook segments, which individually had been down 0.2 percent the month before.
For the monitor area, corporate demand remains weak because of prevailing economic caution in the business and enterprise world, while mobile products like tablets, ereaders and notebooks grabbed more sales among consumers than monitors did during the recent Christmas holiday sales. Growth in 2012 remains uncertain for the area.
In the notebook segment, the October flooding in Thailand is likely to impact notebook production into early 2012, affecting panels being purchased for notebooks in the process. As a result, brands will continue to adjust inventory and pricing in channels, given the shaky outlook here for some time to come.
Increasingly, capacity for notebook and monitor panel production is being shared with that for TV. Also, more large-sized LCD capacity is being shifted toward tablet applications due to the success of devices like Apple Inc.'s iPad, leading to adjustments in production throughout the chain.
Read More > Large-LCD Panel Price Stabilized in December After Five Months of Decline