For the first time, more American TV buyers are choosing to purchase televisions featuring light-emitting diode (LED) backlighting over an older flat-panel technology that has ruled the market for years, according to an IHS iSuppli US TV Consumer Preference Analysis report from information and analysis provider IHS.
Those who decided from the onset of the purchasing process that they would buy an LED-backlit LCD TV jumped to 54 percent in the fourth quarter of 2011, a big increase from just 22 percent in the third quarter. The gains made by LED were at the expense of sets featuring the older Cold Cathode Fluorescent Lamp (CCFL) technology the slightly bulkier predecessor of the LED. This time, however, the share of CCFL-backlit LCD TVs plunged to 25 percent, down from the previous 56 percent.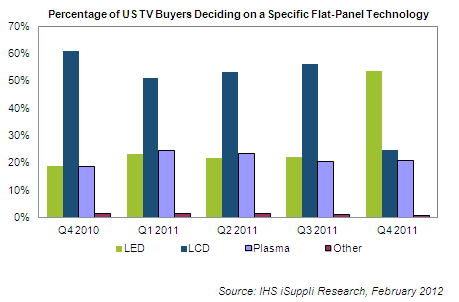 Of those consumers who had made up their minds to obtain an LED TV set, a full 54 percent then went on to actually purchase the TV. More telling, an overwhelming 81 percent of those who had initially expressed preferences to buy a CCFL model ended up buying the LED rival.
LED and CCFL are the two technologies for backlighting LCD televisions, with CCFL being the older light source. However, LED requires less energy than CCFL tubes, lasts longer and is more environmentally friendly in that it does not contain mercury, lead and other chemicals. LED backlighting also produces brighter whites and a wider contrast range.
The new results from consumers, gleaned from a survey that randomly polls 45,000 U.S. households each quarter out of a continually refreshed pool of more than 2 million, indicate that American TV buyers are becoming more technologically savvy. For years, LCD had dominated the TV space, and buyers for a long time did not perceive the market message of LED even after widely publicized reports came out touting the advantages of the new technology.
All that is quickly changing, however, especially as LED-backlit prices decline and as retail channels swing perceptibly toward the new models in their showrooms. A 42-inch 1080p, 120Hz LED in the fourth quarter of 2011 commanded an average price of $862, compared to $755 for a CCFL LCD TV with the same specifications. Only a year ago, the disparity was much greater, at $1,049 for LED vs. $800 for LCD.
The survey report also showed that LCD TVs as a whole including  both LED-backlit sets and CCFL models accounted for nearly nine-tenths of the total TV market, leaving the remaining 10 percent to plasma models, which do not use any backlighting technology. The continually declining prices of LCD TVs, as well as consumer perceptions that plasma models feature lower specifications, have served to depress even further the moribund plasma market, whose demise and eventual exit from the TV market appear all but certain.
The replacement percentage for plasma also dipped in the fourth quarter: Only 11 percent of plasma TVs were replaced with another plasma set, down from 21 percent in the third quarter yet further indication that loyalty to the technology continued to erode.
For those buying an LCD TV, price remained the top consideration, with picture quality and screen size also emerging as important purchasing criteria. In comparison, Internet connectivity has fallen in esteem, as consumers report having experienced difficulty with integrating the feature into their existing viewing platforms.
Other findings: The 32-inch was no longer the sweet spot for LCDs, ceding that honor instead to the 40- to 42-inch-size category. And while the majority of newly purchased TVs still were being placed in the primary areas such as the living room, family room or master bedroom, 10 percent now found their way into a designation known as "other" bedrooms a record-level change.
The most highly recommended brands in the fourth quarter were Sony, which grabbed the top spot from LG Electronics, along with Samsung and Vizio. All three brands, according to consumers, continued to offer innovative, value-added features that emphasized the user experience.
Among retailers, Amazon and Costco scored highest with consumers, who increasingly are turning to online retailers in order to purchase high-quality and larger-sized screens, the survey report found.
 Learn More > Consumers Choose LED Technology Before Making TV Purchases