Industrial and automotive sectors are to blame for still-high stockpiles
I

n

v

ento

r

y

le

v

els

at the

suppliers

of

discrete

semiconductor

components

are

forecast

to h

a

v

e

declined

slightly

in

the

final

qua

r

ter

of

2011

after

rea

c

hing

a

sta

r

tling

high

of

104

d

a

ys

just

one

qua

r

ter

earlie

r

, though

companies

need

to

be

conti

n

ually

vigilant

as

the

new

year

begins

in

order

to

guard

a

g

ainst

still-

ele

v

ated

sto

c

kpile

quantitie

s

,

according

to an IHS

iSuppli

I

n

v

ento

r

y

Insider

r

e

po

r

t

from

info

r

mation

and

analysis

pr

o

vider

IH

S

.
As calculated by the days of  inventory (DOI) measure, discrete semiconductor  stockpiles in the fourth quarter are projected to be 101.4 days, down somewhat from 104.0 days in the third quarter last year. Prior to the third-quarter high, one would have to go back all the way to a three-quarter span in late 2008 and early 2009 to find more distressed levels, when DOI ranged from a stratospheric 107.4 days to 116.3 days.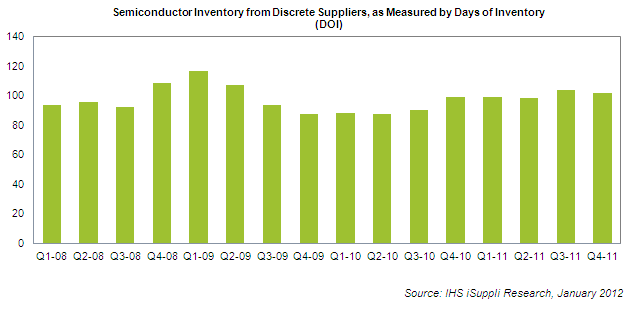 Discrete semiconductors include electronic components such as diodes, transistors, thyristors and triacs. Inventory levels for the space are normally higher than stockpile quantities for the overall semicon- ductor supplier market, which averaged 81 days in the third quarter last year compared to discrete's 101.4 days. But even allowing for such an expectation, discrete inventories remained troubling when considered in absolute terms, suggesting that continuing caution should rule. Discrete inventory in the fourth quarter last year was worth $4.03 billion, down about 5 percent from $4.24 billion in the previous quarter, given the reduction in DOI between the two periods.
The alarming levels of discrete inventory during the last two quarters of 2011 can be traced to a push-out in orders in the various discrete semiconductor components including the industrial and au- tomotive sectors, both of which have experienced fluctuating demand.  Forward visibility also had been murky when discrete forecasting was being made by the companies, adding to existing jitters. Wireless discrete semiconductors face a significant seasonal decline in the first quarter as well.
Nonetheless, a reprieve of sorts was unexpectedly handed to the discrete supply chain as 2011 came to a close due to an earlier unforeseen event, in the form of the Thailand floods. Because of the disaster, semiconductor production in the consumer segment—particularly for the white-goods component facil- ity of Arizona-based ON Semiconductor—took a hit. As a result, the shortfall in production eased what could have been an even worse bloating of  semiconductor inventory across the channel. The beating taken by consumer semiconductors because of the Thailand calamity means consumer semiconductor revenues are expected to decline by a sharp 19 percent in the fourth quarter from the earlier quarter.
Given the necessity to balance creeping oversupply with the need to prevent the channel from drying up completely, discrete semiconductor manufacturers must tread carefully at the onset of 2012, especially in the volatile industrial and automotive segments where demand suffered most in the last days of 2011, IHS believes. To be sure, manufacturers in these segments will be expected to remain conservative in their semiconductor production for the first quarter of 2012 until their order books solidify and normal production levels return to affected Thailand operations.
All told, the forecast for the first quarter of 2012 calls for a slight rebound in the industrial segment, while more muted prospects remain during the same period for the continuingly beleaguered automotive sector.
Semiconductor inventory levels constitute an important gauge of industry health, and the stockpile amount at any point in time also indicates the confidence—or lack thereof—of  the supply chain in its forthcoming prospects. Too little inventory suggests caution for possible hard times ahead as manufactur- ers expect demand to ratchet down; but too much inventory also can be a problem, fueling worrisome oversupply that then forces down pricing.
Learn More > Discrete Semiconductor Supplier DOI Peaks at 104 Days
---