Companies operating in the dynamic random access memory (DRAM) space face a number of challenges in 2012 as industry revenue is projected to sink to its lowest level yet in six years, according to an IHS iSuppli DRAM Dynamics market brief from information and analysis provider IHS.
DRAM revenue in 2012 will amount to $24.4 billion, down a perilous 16 percent from $29.1 billion last year. Though the drop this year is less than the steep 27 percent decline of 2011, the fall in revenue is no less discouraging, pointing to an unhappy extension of difficulties after the tumult of last year. The market will recover in the next few years as the world's economy strengthens gradually, but revenue by 2015 will simply return to where the industry was in 2010, equivalent to approximately $40 billion.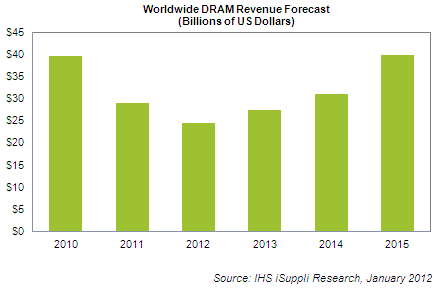 The dramatic fall in DRAM revenue can be attributed to a number of market-encumbering factors, including a persistent European debt crisis and an unsteady global economic recovery. Much of the indus- try's fortune also is beyond its control to be sure—demonstrated by the recent flood in Thailand affecting the storage industry to which the DRAM space is closely allied; or by the subsequent reduction of PC shipments following the emergence of tablet devices like Apple Inc.'s iPad, denting DRAM's previously large footprint.
Some key elements of the unfolding drama, however, are well within the purview of the individual players to manage IHS believes. And DRAM companies as a whole must set priorities in 2012 to better control their own faltering ships.
For Samsung Electronics Co. Ltd., the No. 1 DRAM player, the top priority must be to compete for the long term. With its market share growing to a commanding 45 percent in the third quarter of 2011, Samsung may be tempted to dial down its commitment to DRAM in the face of current tough times for the industry. But that would be a mistake—both out of character and counterproductive for the South Korean electronics giant. Instead, Samsung's mantra for 2012 should be full steam ahead, and not to let supply and demand come back into alignment prematurely.
A different strategy awaits Hynix Semiconductor Inc., the second biggest DRAM company, and also of South Korea. With $6.5 billion in debt at the end of the third quarter last year, Hynix could become crippled by its massive debt burden if  memory makers experience a prolonged downturn. Hynix has made strides recently in boosting competitiveness on the NAND front, but now is the time for the firm to strengthen its balance sheet.
With Micron Technology Inc. of Boise, Idaho, the company is well behind its competitors' process technology. Its manufacturing capacity also is severely suboptimal—the firm's most significant challenge. Micron's top priority in 2012 must be to acquire Inotera Memories Inc. from Taiwan in entirety so that it can stop sharing the facility with Nanya Technology Corp.—a fellow DRAM rival, with which Micron has a 50:50 split in Inotera's wafer-manufacturing capacity. An acquisition would expand Micron's DRAM wafer base by 40 percent, thereby improving the company's prospects.
In the case of Japan's Elpida Memory Inc., its ongoing challenges have less to do with DRAM than its continued tussle with a strong Japanese currency. A vast portion of Elpida's cost is denominated in yen, while much of the company's revenue is based on other legal tender, creating tremendous exchange rate risks. Elpida's primary goal in 2012 should be to optimize its business to guard against a strong yen, as well as refine its procurement strategy and place heavier reliance on domestic suppliers. Otherwise, its 130,000-wafer-per-month fab in Hiroshima will prove uncompetitive.
The last major DRAM player, Nanya of Taiwan, finds itself  at a crossroads. For years Nanya has focused heavily on specialty DRAM segments such as consumer, networking and mobile, but these seg- ments are challenging to address and require both patience and persistence. As a result, Nanya must rede- fine its business structure in 2012 to align with that strategy. Also, the company should divest its interest in Inotera so that it doesn't end up playing in the commodity DRAM market, which would undermine the new strategy.
While the majority of DRAM players have managed to survive against all odds after teetering on the edge of bankruptcy, it appears unwise for any company to keep relying on the vagaries of good fortune or to count on the failure of others for their own success. Except for Samsung, nothing is guaranteed in 2012—and beyond. Instead, resolve, discipline and a laser focus are what will guide each company through the difficult year ahead, IHS believes.
Learn More > DRAM Companies Must Set Priorities in 2012