Growth will come from many California projects coming online, along with CSP-to-PV conversions
Installation capacity for photovoltaic (PV) solar systems in North America will finish 2011 with impres­sive 200 percent growth, lifted by projects finally coming online in California after years of development, according to an IHS iSuppli North America PV report from information and analysis provider IHS.
New installations of PV capacity in North America this year are projected to reach 3.5 gigawatts (GW), up by a factor of three from 1.2GW in 2010. Of this total, ground installations will account for more than 64 percent of total anticipated capacity in 2011, followed by commercial sites at 26 percent and residences making up the remainder.
After this year's blistering growth, PV expansion in North America will moderate during the next three years to rates between 18 percent and 26 percent, and then stabilize at 5 percent in 2015.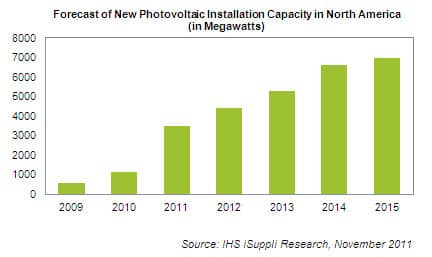 The remarkable increase in 2011 for the PV space in North America can be attributed to projects in California coming online—especially those from San Francisco-based Pacific Gas and Electric Co. as well as from Southern California Edison of Rosemead—following years of construction and development in the pipeline. As the top U.S. state in the use of renewable solar power, California will see PV installation capacity soar to a mighty 1.2GW, up from just 260 megawatts (MW) last year.
The forecast for California also will get a considerable boost in the 2013 to 2015 time frame, as large concentrated solar power projects (CSP) are converted to PV. The two technologies are rivals for the over­all solar market, but the high cost involved in deploying CSP has resulted in the technology falling behind. Both systems rely on the sun to work but in different ways: PV uses mirrored panels to channel the sun's rays into energy, while CSP uses solar power to heat water or other liquids to high temperatures, with the steam resulting from the process employed to drive turbines to create electricity.
Among CSP projects being switched to PV is the 2.25GW pipeline that German-based Solarhybrid AG acquired from fellow German player Solar Millennium. The project includes the flagship 1GW solar farm in Blythe, Calif., as well as the 500MW Palen site in Desert Center, Calif., and another 500MW plant in Amargosa, Nev. Earlier this year, the 850MW Calico project converted from CSP to PV under new ownership.
The recent positive developments for the PV market in North America helped make up for the seri­ous fallout in August immediately after Fremont, Calif., firm Solyndra declared bankruptcy. The company, supposed to be a showcase for American innovation by using a novel process to make solar panels, de­cided to close its doors after being unable to compete in the face of global pricing pressure.
The PV news from other U.S. states besides California also has been less encouraging. Only one state, Indiana, chose to add solar power to its energy portfolio, targeting a 10 percent goal by 2025, leaving 12 more states with no renewable energy policy whatsoever. And tiny New Jersey—second in the country only to California in the use of PV power—will need to increase funding in order to see growth in its solar installations. For many other states that have announced targets for renewable power, funding has been limited for projects in the face of budgetary woes. Budgets of less than $1 million for renewable power projects are common at the state level, even in highly industrialized areas like Ohio and Florida.
Still, the overall PV market in North America can look forward to encouraging prospects, especially as CSP projects convert to PV. The net result will be an upward tick in the forecast for projected PV ca­pacity by a total of 1GW from 2013 to 2015.
Read More > US Manu­facturing Falters in Q3, Financing Unaffected
---