Cornering a big chunk of market that grew mightily after two recession-beset years, Texas Instruments Inc. was the undisputed champion in 2010 of the industrial electronics semiconductor space, according to a new IHS iSuppli report from information and analysis provider IHS.
With a solid presence that made it a Top 5 provider in six subsegments, Texas Instruments boasted industrial electronics semiconductor revenue in 2010 amounting to $1.79 billion, or a 6.5 percent mar­ket share. Dallas-based TI owes it top ranking to several factors, including a robust footprint world­wide; visibility in virtually every industrial electronics market segment—from automation to medical, to energy and military; and strong product offerings in analog, microcontrollers and digital signal process­ing. A completed acquisition of National Semiconductor in the third quarter this year is expected to further reinforce TI's hold on the pinnacle when rankings are reassessed at the end of 2011.
Overall, five companies in the industrial electronics semiconductor arena had revenues in 2010 rang­
ing between $1 billion and $2 billion, and the Top 10 suppliers enjoyed combined revenues of $11.45 billion— roughly 42 percent of a market worth $27.46 billion, as shown in Table 1. Semiconductors that were counted as part of the industrial electronics um­brella included discretes, opti­cal, sensors and actuators, and microcontrollers, as well as integrated circuits governing the analog, microcomponents, logic and memory sectors.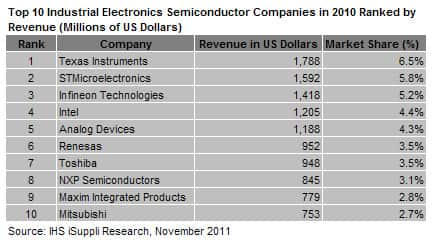 Industrial electronics spans a variety of application fields in an extremely broad range, including such disparate areas as manufacturing and process automation, test and measurement, medical electronics, building and home control, energy generation and distribution, and military and civil aerospace. Revenue for semiconduc­tors produced in the industrial electronics market grew an impressive 35 percent in 2010 after basically flatlining in 2008 and even contracting in 2009—victim of the economic recession like many other segments. And while the market was clearly in retreat for the second half of this year, positive growth is still projected for all of 2011, with brisk double-digit expansion anticipated until 2017.
Occupying the No. 2 slot in 2010 after TI was Italian-French entity STMicroelectronics, with $1.59 billion in industrial electronics semiconductor revenue and 5.8 percent market share. While TI ranked high in several segments, it failed to nab the top spot in any single submarket. In comparison, STMicro­electronics held the top in areas such as manufacturing process and automation, and was also No. 1 in the medical arena.
Third place last year went to German firm Infineon Technologies, with $1.42 billion in revenue and 5.2 percent of the market. Infineon was the top supplier in the energy segment.
In fourth place was Intel Corp. of Santa Clara, California, with $1.21 billion—its industrial electron­ics revenue component just making up 3 percent of the giant chipmaker's total semiconductor revenue of $40.40 billion. Intel accounted for 4.4 percent of the industrial electronics market.
Close behind Intel was another American firm, Massachusetts-based Analog Devices Inc. With 4.3 percent market share, ADI had revenue in 2010 amounting to $1.19 billion.
Rounding out the Top 10, in descending order, were Renesas Electronics Corp. of Japan, in sixth place; Toshiba Corp., also of Japan, in seventh; NXP Semiconductors Inc. of the Netherlands, in eighth; California-based Maxim Integrated Products, in ninth; and Mitsubishi Corp. of Japan, in 10th.
Read More > Energy Ef­ficiency is New Pillar of Industrial Semiconductors