Despite steadily loading up on dynamic random access memory (DRAM), set-top boxes will see their already miniscule share of the DRAM market dwindle into insignificance in the years to come, according to a new IHS iSuppli DRAM Dynamics brief from information and analysis provider IHS.
Based on bit shipment numbers, the share of DRAM destined for use in set-top boxes (STB) will decline from a small 1.06 percent in 2010 to an even more diminished 0.97 percent this year. And except for a temporary uptick in 2014, STB share of the DRAM space will continue to contract from then, end­ing with just 0.76 percent market share by 2015.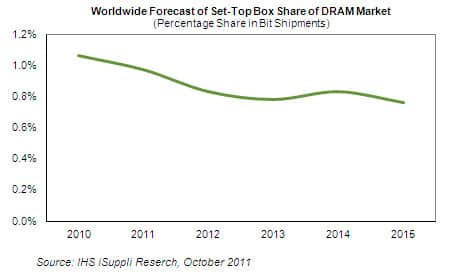 The STB share retreat occurs notwithstanding rising DRAM bit shipments for the device, projected to reach 279.6 million gigabits next year, on their way to some 664.6 million gigabits by the end of 2015. The amount of DRAM being utilized in each STB also will continue to climb in the future, growing from 143.6 megabytes per box in 2010 to 565.4 megabytes by 2015, equivalent to growth by a factor of nearly three.
Such expansive numbers, however, fail to address the waning influence of STBs in the DRAM space—an ironic twist given that the device has achieved greater functionality in order to better compete with tablets, smartphones, gaming consoles and televisions, all of which are vying to become the focal point of a connected home. A major recent advance in STB features was the inclusion of a digital video recorder (DVR), allowing consumers to easily record their programs for timeshifted or subsequent view­ing after a broadcast program has aired. 
Adding features such as DVR to the set-top box has meant the need for more processing power, in the process creating greater demand for higher DRAM loading for the devices. Nonetheless, the need for more DRAM in the boxes is not enough for the STB market overall to keep pace with the furious expan­sion that DRAM is enjoying in other devices like smartphones and tablets.
Moreover, the share of DRAM in the total bill of materials (BOM) for a set-top box is lower than in a tablet PC or smartphone. Analysis made by the IHS iSuppli Teardown Service team of four STB devices boasting higher-than-average DRAM loading revealed their share of memory at just 3.3 percent to 8.5 percent of the BOM. In comparison, the share of DRAM in the bill of materials of a smartphone or tablet PC ranges from 13 to 19 percent.
True, the higher BOM percentage share by smartphones and tablets can be explained in part by the use of high-cost NAND flash memory—none of which is utilized in set-top boxes. However, the single-digit share of DRAM in the overall BOM of set-top boxes shows that DRAM manufacturers aren't get­ting as much revenue from exposure here than in other competitive consumer electronic devices. 
As a result of steadily shrinking share in the DRAM arena, STBs will suffer increased marginalization, IHS believes. And how set-top boxes can keep up—much less overtake—the competition at any point moving forward will be hard to envision.
Read More > Temperate Influence of Set-Top Boxes on DRAM Wanes