The growth rate of dynamic random access memory (DRAM) usage in PCs—traditionally the biggest consumer of the memory type—will trend sharply down in 2011 and the next four years, hurt most by the emergence of the Ultrabook portable computer from Intel Corp. as well as by the growing dominion of cloud computing services, according to a new IHS iSuppli DRAM Dynamics brief from information and analysis provider IHS.
DRAM content this year in notebook computers, a key PC market, is projected to be 4.0 gigabytes (GB) per device—a decline from the originally more optimistic estimate of 4.2GB. The new lower fore­cast for DRAM content for notebooks translates into year-over growth in 2011 of just 25 percent, 6 percentage points down from initial projections of 31 percent expansion.
The disparity between initial expectations of DRAM loading in notebooks, compared to newly ad­justed forecasts to reflect the lower growth, will become even more dramatic in the next four years.
For 2012, the differential will amount to 0.6GB—up from 0.2GB this year—as a result of DRAM loading being reduced in individual notebooks from 5.7GB to 5.1GB. The discrepancy will climb to 1.0GB in 2013, surge to 1.9GB in 2014 and then peak at 2.4GB by 2015.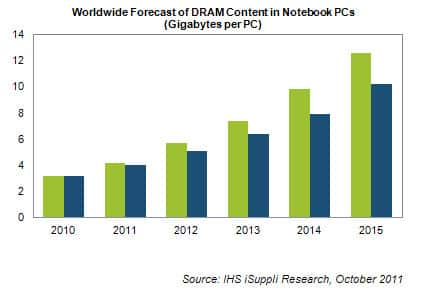 As a result, the growth rate forecast compared to initial projections will be down by 8 percent in 2012, by 5 percent in 2013 and by 8 percent again in 2014, before recovering slightly in 2015 to a 1 percent decline. The net result is that DRAM content in notebooks will amount to a projected 10.2GB per device by 2015, compared to prior forecasts that showed memory loading of 12.6GB.
Ultrabooks and the Cloud: The Main Culprits
The single biggest reason for DRAM's newly reduced prospects is the Ultrabook—thin and light­weight laptops produced by Intel featuring a maximum 4GB in DRAM, with additional memory require­ments offloaded to NAND flash, a rival memory type. Ultrabooks are expected to become the new focus for Intel, away from traditional notebooks, so that the giant chipmaker can compete more forcefully against a rising wave of intense competition from tablet devices like Apple Inc.'s iPad. The fresh spotlight on Ultrabooks will serve to depress DRAM loading until at least 2014, after which Ultrabooks are likely to start saturating the market.
In the anticipated rise of Ultrabooks, the DRAM market might benefit from one possible upside. With the new portable laptops likely to take advantage of higher-priced, premium DRAM chips that con­sume less power, the lower DRAM loading that the industry will have to face could be blunted somewhat, leading to less overall losses. Still, Ultrabooks will be a force for the DRAM industry to contend with, and their impact on the space is the most serious yet, IHS believes.
A second factor expected to stunt DRAM growth in notebook PCs is the new virtual and online storage system known as the cloud. While cloud computing has been on the horizon for many years, it is only now that the impact of cloud technology on devices is starting to be felt. A recent example is the Silk browser from Amazon, which is expected to hand off much of the heavy lifting for Amazon's Kindle Fire tablet to the online titan's cloud service program. The Amazon case is only one example of the increasing importance to be assumed by cloud services in the future, which is sure to exert a long-term impact on DRAM loading for PC devices.
Slow Economy, Fast-Moving Tablet Space Don't Help
In addition to the two factors above, a host of lesser causes in the short term will curtail DRAM con­tent growth in the notebook PC space. Given the sluggish economy, for instance, cash-strapped consum­ers are unlikely to splurge on extras, resulting in the PC industry churning out more budget-type devices with less DRAM to accommodate the mood of the times. And while manufacturers will increase DRAM content on PCs eventually to compete on specifications against the fast-growing tablet space, manufactur­ers in the short term are more likely to include DRAM in their cost-cutting efforts, in order to preserve precious margins for the time being.
Clearly, the era of PC DRAM growth in the 40 percent range typical of previous years is a thing of the past, IHS believes. DRAM companies know this, and suppliers now are turning their attention toward increased production of mobile DRAM for devices like smartphones and tablets, where the next wave of DRAM growth is projected to take place. Tablet densities, for one, will surge nearly 120 percent this year to 598 megabytes (MB), up from 274MB last year. 
Read More > Where Do We Put All This DRAM?