Cruising on strong support from various governments' vehicle-safety mandates, the global advanced driv­er assist systems (ADAS) market will see revenue expand by nearly 60 percent as the year ends, according to an IHS iSuppli Automotive Research topical report from information and analysis provider IHS.
Revenue in 2011 from the three major ADAS technologies of adaptive cruise control (ACC), lane departure warning (LDW) and side object detection (SOD) collectively will reach $1.65 billion, up a ro­bust 57 percent from $1.05 billion in 2010. Growth will be even stronger next year at 63 percent, with combined revenue from the three sectors climbing to $2.69 billion. 
By 2015, the ADAS market from the three systems will be worth $6.21 billion. The projections do not include potential revenue coming in from many other evolving ADAS technolo­gies, such as parking assist systems, night vision and driver monitoring—all in various stages of deploy­ment that could substantially boost the total bottom line for ADAS in the years to come, IHS believes.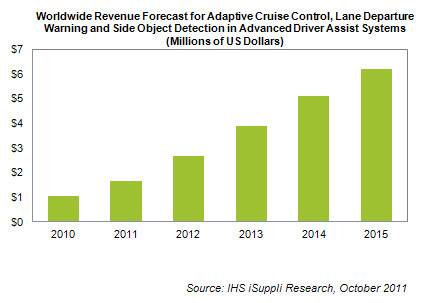 ADAS are systems and technologies designed around sensors sensitive to light, heat, pressure or other stimuli that monitor what is occurring around the vehicle. In turn, the sensors offer advice to the driver in order to raise awareness and increase safety. The sensors—in the form of cameras, radar, lasers and ultrasound—could be located anywhere in or around the vehicle, including front and rear bumpers, side-view mirrors, the interior of steering columns or the windshield. Some sensors are visible to drivers, while many more are embedded within the vehicle and its systems.
The ADAS market is growing because of the pressing need—recognized by governments and drivers alike—to lower the frequency and severity of automobile accidents. Of the estimated 5.5 million police-reported traffic accidents that occurred during 2010 in the United States alone, more than 33,000 people died and 2.2 million were injured. Because ADAS applications can lower the frequency of most accident types, various governments have mandated the installation of some proven ADAS technologies as a stan­dard feature in cars, hoping to protect drivers, passengers, pedestrians and other road users.
Within several months, for instance, all new vehicle models in the United States, Canada, Australia, Europe and South Korea will be equipped with electronic stability control to minimize vehicle skidding. Meanwhile, tire pressure monitoring systems already have been mandated in the United States and will follow shortly thereafter in other markets, including South Korea and Europe. Governments also con­tinue to assess promising new technologies to take a proactive path toward ensuring greater road safety.
ADAS Technologies Help Promote Safety through Specific Actions
The action taken by ADAS technologies can be in the form of simple passive alerts or in reproducing information for drivers to warn them of unusual vehicle and road conditions. However, active interven­tion is also now common for the latest-generation ADAS devices.
Among the more widely available ADAS technologies is adaptive cruise control, which extends be­yond basic cruise control by incorporating a laser- or radar-based system to detect the presence and rela­tive speed of lead vehicles ahead. If ACC senses another vehicle in front traveling at a lower speed, the system adjusts speed to maintain a safe following distance.
ACC has significant long-term potential as a platform because it can address many accident types through add-on applications like collision warning, mitigation and avoidance. ACC market revenue in 2011 is projected to reach $992 million, up from $701 million in 2010, on the way to $1.57 billion next year.
Another popularly used ADAS platform is the forward-facing camera sensor enabling such technolo­gies as lane departure warning, which monitors a vehicle's lateral progress in its lane and warns drivers when the car is at risk of crossing over a lane marker. The LDW system can minimize dangers due to driver drowsiness, inattentiveness or other factors that otherwise compete for the driver's focus.
As today's leading lateral control application, LDW also has long-term potential, with add-on ap­plications that make the forward-facing camera platform versatile and expandable. LDW revenue in 2011 will hit an expected $227 million, up from $116 million last year; with a projected take of $409 million in 2012.
An emerging ADAS category is side object detection, which will gain traction because most drivers intuitively understand its importance. Also known as blind spot detection, SOD is particularly applicable when traffic occurs laterally, such as changing lanes and merging into fl owing traffic typical in U.S. roads. SOD revenue in 2011 is anticipated at $429 million, up from $232 million last year, with prospects for the space to expand next year to $707 million.
Several original equipment manufacturers (OEM) were the pioneers of the ADAS space and con­tinue to lead its development. Most OEMs today are involved in research on current and future technolo­gies, including Audi and Volkswagen; BMW; Toyota and Lexus; Mercedes-Benz; Nissan and Infi niti; and Ford and Volvo. Others, such as Ford, also are actively pushing ADAS downmarket to further increase awareness of—and exposure to—such advanced safety systems.
Read More > Advanced Driver Assist Systems: Gaining Mo­mentum and Increasing Awareness