Microprocessor company gains 1.1 percentage points over rival AMD
Aided by a recovery in the PC market and by strong shipments of its new Sandy Bridge chips, Intel Corp. in the second quarter expanded its lead in the global microprocessor market compared to a year earlier, according to the latest IHS iSuppli Computer Systems research from information and analysis provider IHS.
Intel in the second quarter accounted for 81.8 percent of global microprocessor revenue, up 1.1 percentage points from 80.7 percent in the second quarter of 2010. Chief Intel rival Advanced Micro Devices Inc. (AMD) suffered a corresponding 1.1 percentage point decrease in share during the same period.
The market share numbers presented in the tables and this release cover revenue for the entire global microprocessor market, including X86, RISC, and other types of general-purpose microprocessors. The data is not limited to the X86 chips used in the PC market, although these types of devices represent the vast majority of shipments.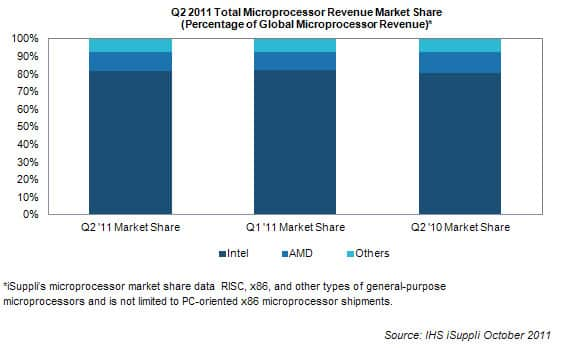 Intel in the second quarter benefited from the combination of a recovery in PC demand and strong shipment growth for its new Sandy Bridge line of microprocessors. Strong corporate PC sales were par­ticularly beneficial to Intel, as the enterprise computing segment has been outperforming the consumer market.
PC Recovery Fuels Rebound in Microprocessor Sales
After contracting on a sequential and annual basis during the first three months of the year, the global PC market returned to growth in the second quarter, with total shipments of 85.6 million units, up 3.7 percent from 82.6 million during the same period in 2010.
This contributed to a 10 percent year-over-year leap in global microprocessor revenue in the second quarter. Global microprocessor revenue in the second quarter of 2011 amounted to $10.8 billion, up from $9.8 billion the same time a year ago.
PC sales were propelled by strong demand from corporate information technology (IT) departments, which now are engaging in efforts to refresh their hardware. In contrast, consumer PC demand was weak because of rising competition from tablets and due to increasing economic concerns. This benefi ted Intel, which derives a greater proportion of its microprocessor revenues from the corporate market.
Sandy Bridge Provides Bridge to Growth
Meanwhile, Intel also aggressively increased production of its Sandy Bridge line of microprocessors, helping to expand its market share. The company described its production increases for the microproces­sor as the fastest ramp-up of any product in the company's history.
The Sandy Bridge line integrates graphics as part of the processor package, and is targeted at corpo­rate and consumer markets across desktop and notebook PC platforms.
AMD Performs Better Sequentially
While Intel was the star of the microprocessor market on a year-over-year basis, AMD's second-quarter performance appears better when using a sequential comparison.
AMD's share of the microprocessor revenue in the second quarter rose to 10.4 percent, up 0.3 per­cent from 10.1 percent in the first quarter. This compares to Intel's 0.7 percentage point decline from 82.6 percent in the first quarter.
AMD's strong increase in shipments of its Fusion microprocessors helped the company to halt the sequential decrease in shipments that it has suffered for the last three quarters.
The company's results were powered up by Fusion microprocessors, which delivers improved com­putational performance. It also provides PCs with DirectX 11 graphics capability without the need for a discrete graphics card.
Learn More > Low Expectations for PC Market in 2011 Despite Second Quarter Growth
---