Worldwide shipments of flat-panel televisions dipped slightly in the second quarter due to soft demand from consumers amid an uncertain global economic climate, with the plasma segment performing much better than the dominant liquid crystal display (LCD) space, according to a new IHS iSuppli Worldwide TV Market Tracker report from information and analysis provider IHS. 
Global flat-panel TV shipments in the second quarter amounted to 48.04 million units, down 1.3 percent from 48.68 million in the first quarter. Of that total, LCD TV shipments accounted for some 43.39 million units, down 2.7 percent from 44.59 million. Meanwhile, shipments of the rival plasma technology reached 4.65 million units, up a solid 13.9 percent from 4.08 million.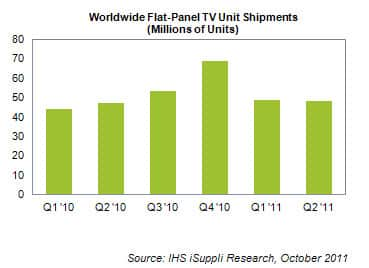 Although the second quarter is usually stronger than the first, that was not the case for fl at-panel TVs this year. Anxiety over the economy dampened demand in the mature TV markets of North America, Europe and Japan, where purchasing power and discretionary income are highest. And even a strong showing from the emerging markets of Asia-Pacific was insufficient to offset the slowdown suffered by the advanced regions. A third major market, China, typically sees a slow second quarter after the end of a major sales season during Lunar New Year celebrations in either late January or early February.
But despite the second-quarter contraction in global TV shipments, flat-panel revenue grew during the period, thanks to the introduction of larger TV sizes and feature-rich sets that command a premium in pricing. Such TV sets, offering features like 3-D, Internet connectivity, higher frequencies and light-emit­ting diode (LED) backlight technology, helped to shore up revenue. Total flat-panel revenue worldwide in the second quarter amounted to $31.5 billion, up 3.6 percent from $30.4 billion in the first quarter. 
Within the LCD space, the 32-inch size category dominated overall, though its share of the total LCD market is expected to fall this year to 36 percent, down from 41 percent in 2010. China was the big­gest LCD TV market during the period, with 19 percent market share, followed by North America and Western Europe, each with 18 percent share. Japan was fourth with 12 percent
In the plasma sector, the second-quarter growth in shipments depended heavily on the availability of larger sizes at aggressive prices. But with LCD models mounting highly competitive pricing of their own, plasma's price advantage is likely to decline after this year, IHS believes. North America remained the key plasma market with 33 percent market share, followed by Western Europe with 18 percent and the Asia-Pacific region with 12 percent. In fourth place was China with 11 percent.
Learn More > Mature Markets Suffering a Slowdown in TV Demand