Many suppliers of dynamic random access memory (DRAM) are facing an endangered future, threatened by a combination of rising debt, declining revenue through the year 2013, and weakening PC demand growth as consumers migrate to more popular smartphones and tablets, according to a new IHS iSuppli DRAM Dynamics brief from information and analysis provider IHS.
DRAM industry revenue in 2011 is projected to decline to $32.7 billion, down 17.6 percent from $39.7 billion in 2010. Revenue then will plunge to a four-year low of $28.6 billion in 2013, before picking back up again slowly afterward to reach $39.9 billion by 2015. Despite the future increase, the DRAM market by 2015 will be at roughly the same level as in 2010, suggesting a sluggish recovery at best.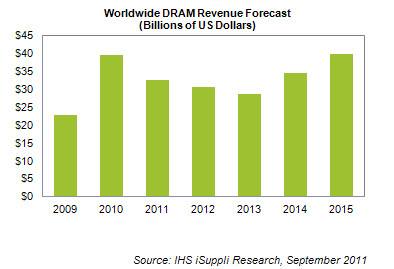 The decline has come sooner than anticipated. While DRAM experienced tremendous growth in 2010 after the deep economic slump from two years earlier, the market has taken a turn for the worse in 2011. The sharp downturn is being driven by several factors, including a dramatic drop in average selling prices for DRAM chips, declining to $1.40 at present, down from more than $3.00 in the second quarter of 2010. PC demand also has evaporated this year as consumers rushed to buy tablets and smartphones— two devices with PC-like functions that had the added attraction of being mobile and portable. PC ship­ments are expected to grow just 5.6 percent in 2011, down from 14.2 percent in 2010.
The painful downward spiral of DRAM has worsened the overall balance sheet of the industry, IHS believes, with debt at DRAM makers continuing to pile up even as the cash needed to pay down obliga­tions has become more scarce and difficult to obtain.
For instance, Taiwanese DRAM manufacturers Inotera Memories Inc. and Nanya Technology Corp. at the end of the second quarter had a cash asset or current ratio of far less than 1.0. This key measure of liquidity suggests the companies would be unable to pay off debts if they came due. Meanwhile, South Ko­rean supplier Hynix Semiconductor Inc. and Japan's Elpida Memory Inc. have current ratios just approach­ing 1.0—still cause for concern. Only U.S.-based Micron Technology Inc. has a current ratio well above 1.0, standing at a solid 2.3. The other major player in the space, South Korean electronics giant Samsung Elec­tronics Co. Ltd., is not affected, as DRAM makes up only a small portion of its total business.
In terms of cash, both Inotera and Nanya had about $200 million on hand at the end of the second quarter, while Elpida had a little more than $1 billion, Hynix $1.7 billion and Micron $2.4 billion. While those cash balances may seem high, Micron is the only supplier in a comfortable position. In fact, Hynix and Elpida could burn through their cash balances in a few quarters if DRAM market conditions dete­riorate further.
In addition to the cash problems plaguing Inotera and Nanya, the DRAM downturn has impacted the market capitalization of both companies, which peaked in the second quarter of 2010 and have slid since then. Today the market caps of Inotera and Nanya are at similar levels to early 2009 when the industry was in dire shape.
For Formosa Plastics Group, the parent company of Nanya and Inotera, the time to leave the DRAM market—which it had contemplated on doing in 2010—may have come too late, IHS believes. In par­ticular, the attractive conditions that existed a year ago for Formosa Plastics to exit on a high note are not around anymore. The spectacular growth of the space is long gone; the market caps for both Nanya and Inotera have leveled after a period of significant recovery; and no potential suitors can be found at pres­ent with the requisite cash to execute a purchase of Formosa Plastics, even if it were to put itself up for sale. Given the troubles at its two offspring fi rms, the future for Formosa Plastics is nothing if not dim, IHS believes.
It is also questionable at this point whether Nanya and Inotera will ever be able to pay off obliga­tions on their own—further disincentive for an interested party, which would have to incur the punishing liabilities in case of a purchase, on top of a market already squeezed by thin profits and declining revenue opportunities.
In effect, while 2010 might not have been the ideal time to exit DRAM as the market started to fray, 2011 is worse—with prospects unlikely to get better.
Read More >  Samsung Charges Back in Q2, South Korea Continues Domination of DRAM