Driven by strong demand for mobile electronic payment and other compelling applications, shipments of cellphones equipped with near field communication (NFC) technology are set to rise to 544.7 million units in 2015, up nearly tenfold from 56.2 million in 2010, according to a new IHS iSuppli Mobile and Wireless Communications report from information and analysis provider IHS.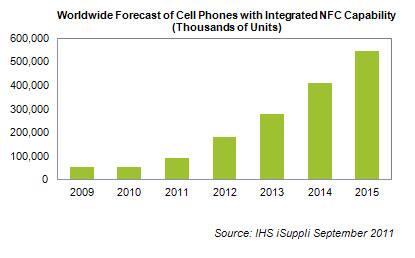 This strong growth will be facilitated by the increasing number of applications NFC has to offer, ranging from mobile payments to linking with computer and cellphone peripherals, to interacting with the environment.
Smartphones equipped with NFC technology are proving to be a viable alternative to cash transac­tions. For example, consumers can employ NFC-equipped smartphones to pay for transportation fares or to purchase goods and services in stores.
Cellphone makers, wireless carriers and credit card companies are recognizing the potential for this market and are making investments accordingly. For instance, Visa and MasterCard recently have agreed to participate in Isis, an NFC mobile wallet joint venture, along with AT&T, Verizon and T-Mobile. With the major credit card companies on board, NFC likely will see strong consumer adoption, resulting in increased shipments through 2011 and beyond. However, the applications do not stop at mobile payments. NFC al­lows smartphone users to interact with their environment in new ways. For example, retailers can create NFC-enabled ads that allow consumers to learn about a product, get a coupon or buy a product online.
Consumers can optimize their social media experience by using NFC to check in at certain locations or to interact with other NFC users in mobile games. NFC has the capability to instantly connect to devices within a certain distance, allowing easier access to peripherals like printers or headsets compared to Bluetooth.
Overall, NFC promises to revolutionize the way smartphones can be used to perform daily activi­ties, driving adoption of the technology by original equipment manufacturers, operators and credit card companies alike. 
Learn More > Evolution of Standards Blurs Lines for Wireless Connectivity Applications