Despite plunging prices that have squeezed margins throughout the solar supply chain, the global photo-voltaic (PV) market remained on a strong growth track during the first half of 2011, with installations on a trajectory to rise by 20 percent for the entire year, according to the IHS iSuppli Photovoltaics Service from information and analysis provider IHS (NYSE: IHS).
Worldwide installations of PV systems on residential and building rooftops, and on the ground for large power plants, are set to rise to 21.2 Gigawatts (GW) in 2011, up from 17.6GW in 2010. However, worldwide PV industry revenue is expected to increase by only 3.7 percent to $80.7 billion in 2011, up from $77.8 billion in 2010.
The growth of system installations is the most representative report card of the health of the PV indus­try. However, beneath the benign top line numbers of industry growth there are turbulent market dynam­ics leading to severe price erosion, reduced revenue growth and disappearing margins. These dynamics are driven by overcapacity in the solar wafer manufacturing business that have impacted the entire market.
Price Declines Rule
Starting with solar wafers and then cascading down the supply chain, recent price declines in the PV industry were nothing less than dramatic during the first half of the year. Global average pricing for solar wafers declined by a stunning 17 percent in the second quarter compared to the first. During the same period, pricing for crystalline silicon (c-Si) modules fell by 14 percent, c-Si cells dropped by 6 percent, and installed PV systems declined by 4 percent.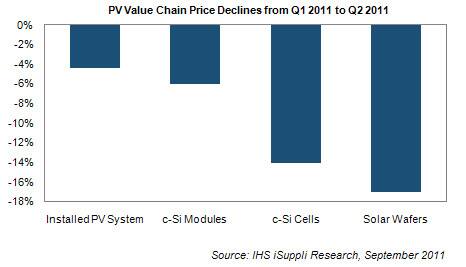 Wafer Thin Profits
The wafer area until recently was one of the more profitable parts of the PV value chain. However, major manufacturing capacity additions—including those implemented by vertically integrated players— translated into downward price pressure for wafers in the first half. This in turn reduced the cost of mak­ing cells, resulting in price reductions for modules.
The result was that companies along the supply chain surrendered gross margin points, cutting pric­ing nearly to manufacturing cost levels.
The thin-film module companies have also had to reduce pricing in order to stay competitive with c-Si technology, which represents 80 percent of the market.
PV installation pricing declined the least of all the segments. Costs for the major PV installation ex­penses, including inverters, aluminum racking, cabling and labor, either declined at a small rate, or not at all.
Germany and Italy Dominate PV Installations
The leading solar countries—Germany and Italy—are on track to account for more half of PV in­stallations this year.
Germany is set to install 6.9GW this year, down from 7.4GW last year. In contrast, Italy is forecast to grow to slightly more than 5GW, up from 3.6GW last year.
The Italian market provided plenty of drama in early 2011, as installation activity came to a halt until the country's new incentive structure was clarified. However, activity since has recovered.
The outlook for 2012 is for both of these countries to decline as new feed-in-tariffs (FIT) and build out ceilings bring these markets back to earth. One wild card for both these countries is the use of PV to backfill for nuclear power, which is being phased out in Germany and was rejected in a national referen­dum in Italy.
U.S. Market to Double in 2011
PV installations in the United States are on track to amount to 2.4 GW this year, more than double from 0.9 GW last year. The big growth driver is the large ground based power plant projects, which are being added primarily in Southwest states. Our current outlook is for 2012 PV installations in the United States to grow by another 30 percent from 2011.
Japan: The Upside to the Nuclear Downside
We have raised our outlook for the Japan PV market as the country studies how it will replace its nuclear generation capacity with alternatives including solar power. After exceeding 1 GW this year, Japa­nese PV installations will rise steadily and quadruple by 2015. This outlook could actually be too low and we will be evaluating our forecast in the coming months as the country's energy policies become clearer.
China to Have a fit FIT
On July 24, 2011, the Chinese National Development & Reform Committee (NDRC) implemented the first nation-wide FIT for photovoltaics. The FIT calls for projects approved by the NRDC before July 1, 2011, and completed by December 31, 2011, to receive 1.15 renminbi per kilowatt hour. Furthermore, newly approved projects and those not meeting the December 31 deadline will be granted a FIT of 1 renminbi per kilowatt hour.
This is clearly a positive signal for the PV industry, but several points need to be clarified within the new subsidy scheme. Unanswered questions include:
•                      How long will the FIT be granted?
•                      Will there be a differentiation by region/insolation conditions?
•                      Will allocated funds be sufficient?
•                      How will grid connection issues be solved?
Despite these open questions, IHS iSuppli expects the new incentive scheme will boost the Chinese market in 2011 and 2012. The introduction of the FIT is set to spur additional installations totalling 1.5 GW in the course of two years. 
Read More > China FIT to Boost Rebound of PV Markets in H2 2011