Shipments of hard disk drives (HDD) edged up higher in the second quarter thanks to some shrewd sleight of hand staged by the storage industry, and Western Digital Corp. continued to lead in overall units for the sixth consecutive quarter, according to a new IHS iSuppli Storage Space market brief from information and analysis provider IHS.
For the quarter ending in June, HDD shipments amounted to 167.1 million units, up 4.1 percent from 160.5 million in the fi rst quarter. Counting units, Western Digital led at the top with 32 percent of the market, followed closely by main rival Seagate Technology at 31 percent. Seagate, previously the ship­ments leader in the space, has been unable to overcome Western Digital's advantage.
The rest of the HDD market in the second quarter was divided among Hitachi Global Storage Tech­nologies at 16 percent, Toshiba/Fujitsu at 11 percent and Samsung Electronics Co. Ltd at 10 percent.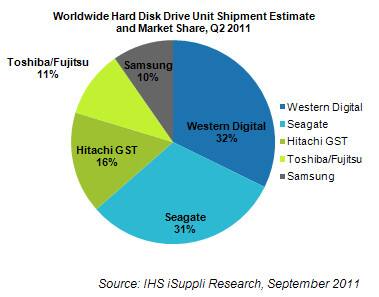 Despite some interruptions resulting from the Japan quake di­saster in March and the continuing decline of netbook sales because of tablet devices, HDD shipments went up during the period, with each company meeting its revenue forecast. In turn, growth was real­ized partially from a pull-in of or­ders by PC manufacturers fearing a potential shortage of components from the quake's impact, and also by suppliers utilizing less expensive sea freight to ship goods instead of costly air freight.
For Western Digital, the com­pany shipped 53.8 million HDDs in the second quarter—the most ever in the company's history—up 6 percent from the previous quarter. Revenue totaled $2.4 billion, second only to Seagate at $2.9 billion because of Seagate's larger share in the business enterprise segments, which commands higher average selling prices. But despite record shipments, Western Digital suffered margin erosion, with its operating margin at 6.9 percent in the second quarter, caused by a number of factors including a broader pricing decline, increased investment in new products, and higher acquisition- and litigation-related expenses.
Meanwhile, runner-up Seagate during the same period shipped 52.3 million HDD units, up 7.2 per­cent. Like Western Digital, Seagate also suffered margin erosion with a slightly lower operating margin of
6.5 percent, attributed to higher commodity prices, increased competition, the lower margin of notebook disk drives and slower technology transitions. Another factor that may be impacting Seagate's margin is the recall of some of its 1-terabyte mobile drives, produced in July for the 21.5-inch and 27-inch iMac from Apple Inc.
Moving forward, HDD shipments in the third quarter will be up 3.4 percent because of anticipated sales increases during the back-to-school and pre-holiday season on the consumer front, as well as contin­ued corporate PC upgrades driving the enterprise segment.
In particular, the enterprise space will remain strong due to new microprocessors such as Sandy Bridge and Romley from Intel Corp., and Bulldozer and Interlagos from Advanced Micro Devices Inc. The adoption of these new processors by enterprise businesses, which demand higher performance for server and storage virtualization, will lift enterprise HDD demand in the second half of this year, IHS believes.
 Learn More > Margin Erosion Spells Trouble for HDD Makers' Financial Health