With prices in the dynamic random access memory (DRAM) industry diving to perilously low levels, manufacturers risk major losses if they do not transition to the more efficient 3x/2x-nanometer (nm) pro­cess technologies already employed by Samsung Electronics Co. Ltd. and other leading memory suppliers, according to a new DRAM Dynamics brief from information and analysis provider IHS.
Samsung's wafer production in the third quarter at the 3x/2xnm level, the most effi cient currently available to manufacturers, stands at 29 percent—by far the highest level among all major DRAM play­ers. With DRAM prices in the third quarter declining to $1.60, down from more than $6.50 a year ago, manufacturers not running on a 3xnm process node likely will take a loss on sales of 2-gigabit Double Data Rate 3—the main DRAM configuration.
Compared to Samsung, archrival and fellow South Korean competitor Hynix Semiconductor Inc. claims 18 percent of DRAM production at the same 3x/2xnm level, with Japan's Elpida Memory Inc. not far behind at 16 percent. Such percentage levels suggest an effort to keep up, although Hynix and Elpida—the second- and third-ranked entities in revenue market share for the DRAM space—have not approached Samsung's efficiency in migrating process nodes downward more quickly.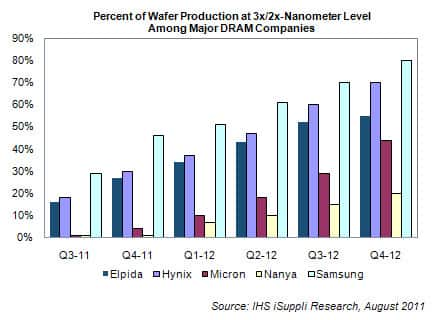 Samsung will maintain its industry lead by moving nearly 80 percent of wafers to 3xnm or beyond by the end of 2012, with Hynix looking to keep pace but at one quarter behind. Elpida promises to move quickly as well, even though its 25nm product is still in the early phases of qualification.
The current laggards, Micron and Nanya, will be playing catch-up through the end of next year. For their major products, both companies now rely on a still-viable 42nm process that is probably cost effec­tive only for this year, and the two then will need to accelerate their transition to 3xnm in order to stay competitive.
For the rest of the industry still manufacturing at 4x/5xnm processes—including entities such as Powerchip —production at those nodes means a decreasing likelihood of even covering cash costs, given today's low DRAM selling prices. The cash cost per packaged 2Gb DDR3 die at 31nm currently stands at $0.68, but the cash cost balloons to $1.34 at 48nm. With average selling prices for DRAM projected to slide even further, down to $1.25 in the fourth quarter, continuing to produce at the 4xnm node is tantamount to courting disaster.
The path, then, is clear: manufacturers must move quickly and transition process nodes downward if they hope to stay ahead of continually plunging prices. Unfortunately, even such a fix will present an un­wanted side effect: As industry players struggle to keep up in the downward-migration race, more DRAM per wafer will end up getting produced, depressing prices even further.
Nonetheless, the alternatives to playing catch-up are few. One tactic, adopted by Micron, involves diversifying the customer base to mitigate some of the pricing risk. But then, not everyone can pursue such a strategy or has access to varied markets. And as margins continue to evaporate for lagging players, such companies could end up being acquired—or worse, lose their business.
Read More > Shrink or Perish: The Race to 30nm Heats Up