Amazon has announced content deals with NBC Universal and CBS that expand the online retail giant's Prime Instant Video streaming library by 50 percent from about 6,000 titles to 9,000 in all, according to IHS Screen Digest findings from information and analysis provider IHS.
The agreement with NBC Universal adds about 1,000 titles from Universal Pictures, including "Babe," "Fear and Loathing in Las Vegas" and "Eternal Sunshine of the Spotless Mind." The deal with CBS, on the other hand, lets Amazon stream 2,000 episodes of shows like "The Tudors" and "Frasier."
Amazon launched the Prime Instant Video service in March, which marked its entry into the instant streaming subscription market popularized by Netflix and Hulu. Amazon is serving up Prime Instant Video as a value add-on to members already subscribed to its discounted shipping service—similar to what Netflix did in 2007 with its Watch Instantly" streaming service to complement its DVD disc-by-mail subscription.
And like Netflix, Amazon offers stream­ing to a growing number of consumer elec­tronic devices that can play content from the open Internet. These devices, which can include TVs, Blu-ray players and games con­soles, have long been a key component in getting consumers to pay for content online. Shipments of these devices in the United States are expected to rise by a factor of four during the next five years, growing to 38.6 million units in 2015.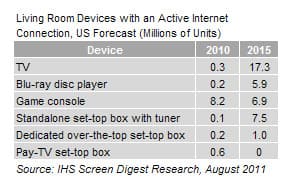 After a faltering start in online video, Amazon's move to follow Netfl ix's lead is a necessary step, especially if it hopes to avoid looking like an also-ran in the online streaming video market, IHS Screen Digest believes. Signing up with NBC Universal and CBS bolsters Amazon's content library for Prime Instant Video, launched originally with 16 content providers including major studios like Warner Bros. and Sony Pictures, as well as indie outfits such as Magnolia, IFC and Shout Factory.
Nonetheless, the newly boosted catalog of 9,000 titles still pales when compared to Netfl ix's equiva­lent with 30,000 offerings. Amazon does have many more titles available via its larger Instant Video ser­vice for streaming, but those are offered on a pay-per-view model, not on a subscription basis on which regular revenue can be counted.
And in an increasingly crowded marketplace where it is striving for distinction, Amazon faces a bar­rage of competition from next-generation networks like Netfl ix and Hulu, as well as from premium TV platforms such as Starz and HBO aiming likewise to take movie rights across both traditional pay-TV channels and online.
Seattle-based Amazon already has proven it is willing to spend in order to compete in the video streaming market. At the end of January 2011, Amazon completed the acquisition of British-based movie and games rental service LoveFilm for $320 million. Often compared to Netflix, LoveFilm has become one of Europe's top movie subscription services over the past seven years, with 1.4 million members across Europe and offering DVD rental by post as well as online movie streaming (limited to the United Kingdom and Germany). With Netfl ix looking to extend into new international markets, the tussle with Amazon is likely to extend beyond the United States.
For Amazon, launching Prime Instant Video created a way to get its most active users to spend more time on its site by freely "giving away" content—though in reality, the video service is already paid for as part of a customer's annual $79 subscription fee to Amazon's discounted delivery.
This is part of a necessary transition strategy for Amazon as it tries to move an established physical media business onto digital entertainment, and it makes sense that the company start with its most valu­able customers. Already, Amazon Prime members have been shown to drive two to three times more pur­chases than the average Amazon shopper. What is less clear, however, is whether a natural overlap exists between Prime subscribers arguably concerned with savings on delivery for physical products beyond just video entertainment, and customers for whom instant video streaming carries signifi cant value.
Moreover, a considerable gap remains in the subscription streaming offers between Amazon and Netfl ix. Netflix streaming is carried on a wider variety of connected devices than Amazon. Most notably, Netflix is present on games consoles, which in 2011 account for more than 55 percent of all living room devices actively connected to the Internet in the United States; Amazon is not. Moreover, Netfl ix's digital rights library for movies and TV episodes is six times larger than that of Amazon. 
With the value of subscription streaming rights on the increase because of the Netflix success story, the question for Amazon is one of balance. Amazon must weigh the additional funds required to build a competitive streaming catalog, against the fact that the company is in a period of transition. In such an equation, direct returns on a catalog investment are likely to be slight, or they may never emerge if the existing retail customer base cannot be migrated to streaming.
That being said, Amazon is a company with a track record of playing the long game: its world-leading ecommerce store initially took eight years to break even.  
Find Out More > IHS Screen Digest Broadband Media Intelligence
---