In another sign of the growing prominence of mobile platforms like smartphones, handheld gaming devices and tablets, revenue in the first quarter for mobile dynamic random access memory (DRAM) crossed the $2 billion mark for the first time, according to a new Mobile & Embedded Memory market brief from informa­tion and analysis provider IHS.
Revenue for mobile DRAM hit an astonishing $2.07 billion during the first three months of this year, up 10 percent from an already hefty $1.88 billion in the fourth quarter of 2010. Showing how far the industry's revenue levels have progressed, the increase between the two quarters of about $190 mil­lion was equivalent to almost the entire mobile DRAM market in the first quarter of 2009, when revenue amounted to just $205 million. Revenue in the first quarter this year is also up a mighty 150 percent from the same time last year.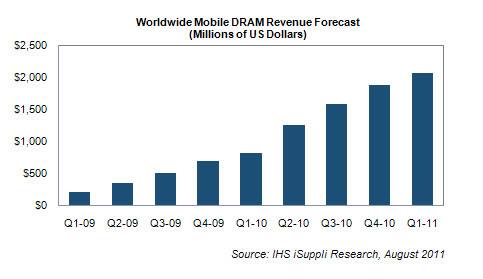 Mobile DRAM is the DRAM variant currently preferred for use in mobile applications, including a variety of consumer electronics devices. As devices consume more memory to carry out an ever-expanding range of highly sophisticated tasks, shipments of mobile DRAM are likewise set for outstanding growth. Unit shipments and densities for mobile DRAM will increase sharply during the coming years, a testament to a vibrant market.
Among smartphones, mobile DRAM density is anticipated to grow by nearly a factor of six between 2010 and 2015. Meanwhile, density in handsets overall will increase eightfold as devices transition to 2-gigabit (Gb) parts. In terms of units, just 43 percent of shipped cellphones in 2010 used mobile DRAM—so plenty of opportunities remain for mobile DRAM to penetrate the handset space.
Prospects are even more bullish in the fast-growing tablet market. Given the expected proliferation of 8Gb and 16Gb chips during the next few years, mobile DRAM densities will rise by a factor of almost 14 for tablet devices. Unit shipments of mobile DRAM also can be expected to grow, given that tablet shipments are projected to multiply 15 times between 2010 and 2015.
In the handheld gaming market, mobile DRAM usage will rise during the coming years. Both the PlayStation Portable by Sony Corp. and the 3DS by Nintendo Corp. already have 64 megabytes of mobile DRAM, and Sony's forthcoming PSP Vita handheld likely will have memory content of 256 megabytes—similar to that of its non-handheld PlayStation 3 gaming console. The handheld gaming market ships about 30 million units annually, making for another healthy segment in which mobile DRAM can play.
Players Look to Join Lucrative Market
The remarkable outlook for mobile DRAM has prompted a number of companies to enter the mar­ket during the last five quarters, including Taiwanese firms Winbond Electronics and ProMOS. However, newcomers will find it hard to challenge leaders like South Korea's Samsung Electronics and Hynix Semi­conductor, as well as Japan's Elpida Memory—given that all three comprise almost 95 percent of mobile DRAM shipments and revenue.
Samsung was the top mobile DRAM manufacturer in the first quarter with revenue of $1.13 billion, followed by Elpida with $434 million and by Hynix with $191 million. Far behind in fourth was U.S.-based Micron Technology with $84 million, while fifth-ranked Winbond had $13 million and ProMOS in sixth place had just $3 million.
The mobile DRAM market will have great momentum in sustaining an upward sales trajectory for years to come, IHS believes, with revenues this year likely to hit $6.9 billion. The stunning forecast for mobile DRAM is in direct contrast to the pallid prospects facing the general DRAM space, with annual revenues this year projected to drop more than 10 percent. 
Learn More >  Mobile DRAM Celebrates First $2 Billion Quarter