U.S. photovoltaic (PV) installations in 2011 will rise a spectacular 166 percent to a total of 2.4 gigawatts (GW), with California leading the country in the amount of power derived from renewable solar energy, according to a new IHS iSuppli Photovoltaic market-tracker report, from information and analysis provider IHS.
The number of PV installations this year is projected to climb to approximately 49,000—up from 39,000 in 2010. Of the 2.4GW in solar power expected to be installed this year, ground installations will contribute approximately 1.4GW, commercial installations 710 megawatts (MW) and residential installations 270MW.
Thanks to the implementation of many utility-scale projects this year, the U.S growth rate in 2011 will be more than double the 80 percent expansion level of 2010, when PV installations amounted to just slightly over 900MW. Next year, new solar installations will reach an estimated 3.1GW, on the way to some 5.5GW by 2015. And while a downturn next year is forecast for Europe, growth will be good stateside because of healthy support from the U.S. Department of Energy in the form of loan guarantees to help stimulate the market and help secure a lower cost of capital for large projects. 
Among U.S. states, California will be the leader by a wide margin in renewable solar power this year, accounting for 1GW. Tiny New Jersey is expected to be second with over 260MW, followed by Arizona with 240MW, New Mexico with 140MW and Nevada with 120MW. The remaining Top 10, in descending order, will include Pennsylvania, Florida, New York, North Carolina and Colorado. With large projects coming through the year, Nevada will enter the Top 10 for the first time this year, crashing into the Top 5. Meanwhile, New Jersey, though in second place, may encounter hiccups in light of waning political support from the state's governor.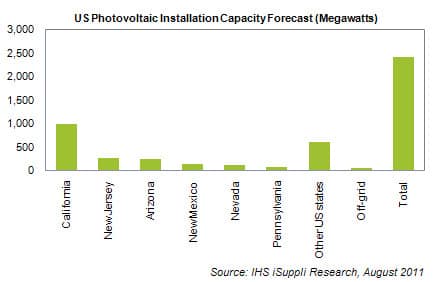 Overall in terms of renewable energy, many states are indicating significant growth potential through 2020, in line with the entire country's Renewable Portfolio Standard regulations requiring the increased production of energy from renewable sources.
Michigan, Kansas and Washington all have established targets to derive 10 to 20 percent of their total power needs from photovoltaic or renewable sources by 2015 to 2020, even though no progress appears to have been made as of 2010 toward reaching this goal, IHS iSuppli research shows. New Mexico is further along this path, with large projects that will help the state reach its 10 percent target by 2020.
Growth in renewable energy will be fastest over the next four years in New York, where the five-year compound annual growth rate ending in 2015 is expected to be at 29 percent. Colorado, however, has the largest potential for expansion: While the state in 2010 derived 5 percent of its power from renewable power, that rate is set to grow to 27 percent by 2020—representing growth of approximately 22 percent. 
There are also more states within the country that have renewable energy targets extending all the way to 2030, indicating it will be some time before the market peaks.
Read More > US DOE Steps Up in Q2, Ontario's PV Future Questioned