Voltage regulators are set to continue to outpace the growth of the overall analog integrated circuit (IC) market as well as the total semiconductor space—managing a compound annual growth rate (CAGR) of 16.0 percent from 2009 through 2015, according to new research from IHS iSuppli.
Compared to the total analog market and the overall semiconductor market with CAGRs of 11.9 percent and 6.3 percent during the same period, respectively, voltage regulators represent a fast-growing market. Voltage regulator revenue is set to grow to $16.3 billion by 2015, up from $9.1 billion in 2010, expanding faster every year than the rest of the analog IC market.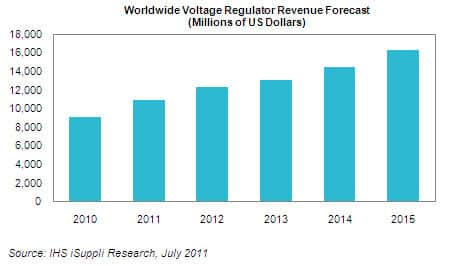 Leading Providers
Voltage regulators are the largest contributor to general-purpose analog revenue. Thus, maintaining a strong position in the voltage regulator segment ultimately will drive greater revenue growth for analog companies playing in the overall analog IC market.
Among the leaders in this segment in 2010, Texas Instruments (TI) led the pack with revenue of $1.7 billion, or 18.0 percent market share. This was followed by Maxim Integrated products with $936 million, or 10.2 percent share of the voltage regulator market; and National Semiconductor with $758 million in revenue, or 8.3 percent market share.
TI Strong in Analog, ADI in Data Converters
Among the players in the general-purpose analog IC category, none is stronger than TI. The company is the No. 1 supplier in three out of the four general-purpose analog segments including voltage regulators, amplifiers and interface ICs. Overall, TI's general-purpose analog ICs make up 57 percent of the company's total analog revenues.
The one segment that TI does not rule is data converters, where Analog Devices Inc. (ADI) is the leader. ADI's top-ranked position in data converters translates into a 39 percent share of that market, compared to 22 percent for runner-up TI.
ADI garners a whopping 54 percent of its general-purpose analog IC revenues from data converters alone; the segment also accounts for 44 percent of its total semiconductor revenues. And while TI has made strides to close the gap, ADI will continue to dominate the data converter field in the foreseeable future.
Read More > In Year of Dramatic Growth, Top Analog IC Suppliers