Despite extreme shifts in pricing, demand and governmental subsidies, the global photovoltaic market in 2011 will experience robust growth, with installations rising by 42.3 percent for the year, according to the market research firm iSuppli Corp.
iSuppli's forecast, discussed intensively with leading industry experts attending the recently concluded 5th World Conference on Photovoltaic Energy Conversion in Valencia, Span, indicate that worldwide solar installations will reach 20.2 Gigawatts (GW) next year, up from 14.2GW at the end of 2010. Germany, the world's leading Photovoltaic (PV) market, will continue to play a key role and account for half of the total installations, at 9.5GW.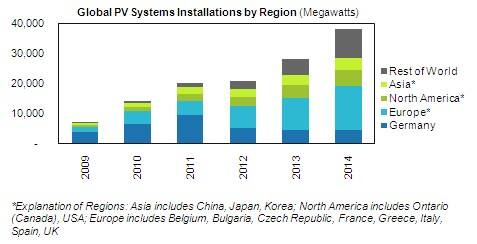 The generally strong results projected for 2011 come despite softening demand anticipated during the first quarter of next year. As a result,  prices will weaken at the end of the first quarter, and it is the very feebleness of pricing that will be responsible for demand momentum building up in the second quarter, iSuppli PV market research indicates. From then on, a significant demand rally can be expected, leading to a price rebound in the second half.
Speculation is also rife about the possibility of a PV cap being imposed in Germany for 2011. However, iSuppli believes that the German government will not dare to cut down PV subsidies, especially in the wake of a recent decision to extend the operation of nuclear power plants. With the nuclear extension passing despite popular opposition, the government is not likely to risk further alienating public opinion by implementing limits on photovoltaic solar energy.
A severe action such as an installation cap on solar technology, iSuppli believes, conceivably could cause a mutiny among regional politicians that count PV companies as electoral constituencies, in the process drawing loud protestations from the industry, where precious jobs are at stake.
And unlike in France—where an ad hoc action imposing PV caps succeeded—the solar industry in Germany has real influence on governmental decisions.
In the near term, the nuclear reprieve in Germany will have no effect on the PV markets, even if passage might have sent the wrong signal to PV global markets for the time being, iSuppli maintains. And with German polls suggesting overwhelming support—80 percent by one count—among voters in favor of renewable energy generation, the forecasts for a strong German PV market in 2011 continue to hold and remain unchanged.
Read More > Global PV Market to Double in 2010, Germany Leads the Way