Global semiconductor flash memory revenue in the second quarter rose 5.4 percent to $5.85 billion, according to the market research firm iSuppli Corp., with manufacturing giant Samsung Electronics Co. Ltd. accounting for well over one-third of total sales during the period. 
Among the two major flash memory categories, NAND commanded a bigger share of the revenue pie with $4.62 billion, up 6 percent from $4.36 billion in the earlier quarter. NOR flash accounted for the rest with revenue of $1.23 billion, climbing 3.1 percent from $1.2 billion in the first quarter. 
Banking $2.02 billion, South Korean giant Samsung was only one of two companies boasting billion-dollar revenues in the second quarter. Samsung's revenue totals, representing roughly 34.7 percent of the overall flash memory market, indicated the company grew 9.3 percent during the period.
The only other company to breach the billion-dollar revenue wall in the second quarter was Toshiba Corp., with $1.49 billion. While Toshiba's take actually fell 1.6 percent from $1.52 billion in the first quarter, its revenue total was good enough to qualify the Japanese manufacturer for second place overall in the flash memory market. Toshiba also had a 25.5 percent market share, iSuppli memory pricing and forecasts show.
In the mobile DRAM segment, revenue amounted to $1.4 billion, representing shipments translating into 325 million Gigabyte-equivalent units. Mobile DRAM, a constituent part of DRAM, is not included in flash memory totals, although its coverage in any discussion of memory is useful for obtaining a more comprehensive perspective of the market.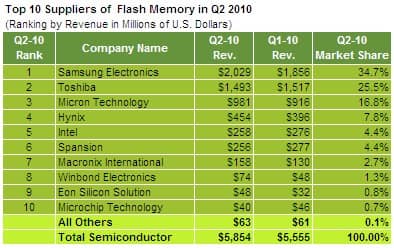 Winners v. Losers
Samsung was the top performer in NAND flash, mirroring its leading position in the overall flash memory market. In comparison, Idaho-based Micron Technology led the rankings for NOR flash memory. Micron was also third overall in flash memory revenue, with 16.8 percent market share.
Likewise riding high during the second quarter was Taiwanese-based Winbond Electronics Corp., which posted a 50 percent climb in revenue, from $48 million to $74 million, to land in eighth place overall. 
For its part, Japanese company Elpida Memory Inc. scored in the mobile DRAM category, with shipments rising 103 percent from 24 million to 49 million Gigabyte-equivalent units.
A conspicuous underperformer during the quarter was Intel Corp., whose revenue during the period fell 6.5 percent from $276 million to $258 million. Intel came in fifth among companies overall but was sixth in the NAND flash category.
Read More > Q2 2010 Flash Memory Market Share Rankings