The market for mobile gaming in the United Kingdom more than doubled in 2010 as the rising respectability of online wagering and the proliferation of smartphones attracted new users, new IHS Screen Digest research indicates.
Net mobile gambling revenue in the United Kingdom in 2010 rose to £41 million, up from £19 million in 2009. According to the U.K. Gambling Commission, the percentage of the U.K. population participating in remote gambling, defined as wagering via a communications medium such as the Internet, a telephone or the  television, tied a record high of 13.7 percent in the fourth quarter of 2010, up from 9.8 percent four years earlier in the first quarter of 2007.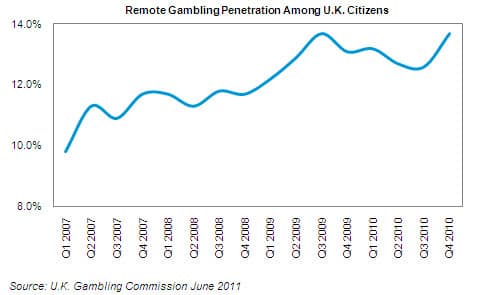 Gambling Goes Legit
The full implementation of the 2005 U.K. Gambling Act in 2007 helped change the public perception of mobile gambling by allowing online betting sites to advertise their services on television and radio for the first time. During the past 12 months, there has been a rapid increase in advertising spending from mobile gambling operators and other wagering operations to promote their services.
Partly because of this, the opinion of gambling has changed in the country. No longer does gambling conjure an image of a smoky betting shop hidden from the public. Instead, betting has crafted itself into a respectable enterprise by using ad campaigns featuring the endorsements of sports pundits.
U.K. betting organizations Paddy Power, Betfair and Ladbrokes all have launched campaigns aimed at the new generation of smartphone users. And Blue Square, part of the largest U.K. gambling conglomerate the Rank group, attributed 20 percent of its revenue from mobile gambling in 2010, a 300 percent increase year-over-year.  
Smart Wagering
The proliferation of the smartphone has helped the mobile gambling market to experience breakthrough years in 2009 and 2010. But with the launches of 4G and spectrum auctions coming in the upcoming months, 2011 looks to be a year where U.K. gambling operators reinforce mobile as a substantial source of revenue.
Today's mobile gambler is very different from the mobile gambler five years ago. Previously, aesthetics and speed were sacrificed for accessibility over a variety of devices. Today, consumers want a quick, good-looking application that provides additional content and allows them to place bets, spin a roulette wheel or buy a bingo ticket with the same level of ease that they currently can find online. As a result, a new wave of speedy, glamorous mobile gambling applications is emerging, which can be promoted in the wider media with ease. IHS expects this trend to continue.
Revenue Boost
Unlike other industries where mobile handsets are cannibalizing tradititional revenue streams like mobile games, the same can't be said when it comes to mobile gambling. Instead, mobile is expected to increase an online user's average revenue per user (ARPU) by 10 percent to 20 percent during the next couple of years.
This is due to location-based use. For example, with mobile gaming, a user can bet on a sports event at any location and doesn't necessarily have to be at the event to do so. Plus, with live events being streamed more and more via mobile, users enjoy access to many more events that they can gamble on.
The majority of bets and stakes are taken from an account balance already established by a user—similar to Amazon or PayPal. However, with the growing popularity of e-wallets and e-commerce, as well as the rising use of m-commerce, these approaches may become a more common way of betting. Therefore, IHS does not believe that mobile operators will become billing centers for gambling.
Read More > Mobile Gambling Beats the Odds