STMicroelectronics in 2010 remained far and away the largest contract manufacturer of microelectromechanical system (MEMS) sensors with revenue nearly five times greater than second-place fi nisher Texas Instruments, according to new IHS iSuppli research.
STM, an Italian-French electronics firm based in Geneva, Switzerland, had revenue of $228.6 million derived from MEMS foundry services compared to $47.4 million for Dallas-based TI during 2010, the latest period in which full year-end figures are available.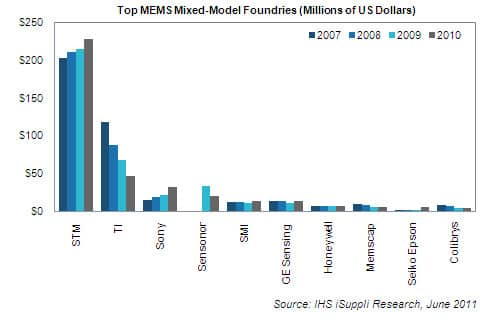 IHS iSuppli distinguishes the "pure play" MEMS foundries that do not manufacture their own MEMS from the so-called "mixed model" foundries—i.e., integrated device manufacturers that offer MEMS contract manufacturing in addition to their core business.
For the fourth year in a row, STM led the rankings and was the only MEMS foundry with revenue in the hundred-million-dollar range. Inkjet wafers made for the Hewlett-Packard Co. represented the majority of STM's MEMS revenue. And although HP inkjet revenue has been shrinking, STM managed to grow its foundry takings by capturing an increasing share of HP inkjet production in the last four years. STM also has started working with other inkjet manufacturers, such as Kodak, and has won several foundry programs in the bio MEMS space, such as insulin pumps with Debiotech of Switzerland.
TI, although still No. 2, has seen its foundry revenue slide steeply since 2004 after the freefall in the inkjet business of main customer Lexmark. However, TI recently entered into an agreement for the contract manufacturing of consumer MEMS with a Top 15 maker in that sector, which should start generating revenue for TI in 2011.  
Two other notable mixed-model foundries are Norway-based Sensonor Technologies, in third place with $38.0 million; and Sony Corp., in fourth place with $31.9 million and up a hefty 51.2 percent in revenue, thanks to the excellent performance of its primary client, Knowles Electronics, in MEMS microphones.
MEMS Foundry Market Models
The mixed-model group as a whole commanded a larger share of the MEMS market than the pure-play sector. The Top 10 mixed-model foundries enjoyed combined revenues in 2010 of $396.0 million, with their two top performers of STM and TI together responsible for 70 percent of that market. In comparison, the Top 10 pure-play companies had revenue during the same period amounting to $205.3 million, headed by principal foundry Silex Microsystems at $36.0 million.
Nonetheless, the pure-play field saw much more annual rapid growth in 2010, benefiting from a vigorous expansion rate of 48.4 percent compared to a mere 2.4 percent for mixed-model suppliers. 
2010: An Excellent Year for Pure-Play Foundries
Four pure-play MEMS foundries each had revenue in 2010 that exceeded $30 million, whereas no companies in that group had ever reached that level in the years prior. Top-ranked Silex owes half of its MEMS revenue to industrial and scientific applications, with medical applications and optical MEMS accounting for other sizable revenue portions.
The three other pure-play companies with more than $30 million in MEMS revenue during 2010 included Canadian foundry Micralyne, growing 50 percent to $31.3 million; Taiwan-based Asia Pacific Microsystems, in third place with $31.2 million; and last year's No. 1 Dalsa Corp., another Canadian foundry, in fourth place with $30.9 million.
Determining who Owns the IP, Plus other Business Concerns
While MEMS foundries focus on the manufacturing process of the tiny sensors and actuators found in today's smartphones, optical telecom equipment or blood pressure monitors and myriad other devices, the intellectual property (IP) related to the MEMS parts belongs to the fabless customer or its partner design house.
In some instances, however, the foundry owns the IP—as is the case with Memscap, which controls the IP on the variable optical attenuator chips it sells to JDSU and other telecommunications companies. Such a model tends to accelerate the time to market for a foundry's clients and helps to secure their loyalty, but it also could scare away customers that fear the foundry might be developing its own product and become a competitor, IHS believes.
The foundry business model also faces other issues. Should they provide wafers alone, or are they supposed to be a one-stop shop? Do they work as all-around generalists, or are they better at being specialists?
Some MEMS foundries also have positioned themselves as prototyping sites for research and development, while other R&D foundries wish to emancipate themselves and become sites for serial production. And while competition is fierce among foundries, partnerships among these companies have flourished during the last four years—yet another wrinkle in the fabric for the space. 
All told, such issues continue to be threshed out, even as the MEMS foundry business overall is forecast to keep expanding during the years to come.
Read More > MEMS Competitive Analysis 2011