For the first time this year, PC original equipment manufacturers (OEM) will account for a larger share of the market for solid state drives (SSD), wresting control of the fast-growing segment away from a pool of smaller third-party players, according to new IHS iSuppli research.
Starting 2011, shipments of SSDs made by OEMs will outweigh SSD shipments coming from the channel. OEM-made SSDs—normally integrated into the computers being sold in retail or to business entities—will reach shipments of approximately 8.0 million units this year, up 176 percent from 2.9 million units in 2010. In comparison, shipments amounting to 6.3 million units will come from channel-designated SSDs—generally standalone devices moved through distribution and resellers, or sold in the aftermarket. While the channel total is up 58 percent from
4.0 million in 2010, this year's channel shipments will occupy a smaller share of the overall SSD market at 44 percent, compared to 56 percent for OEM-generated SSDs.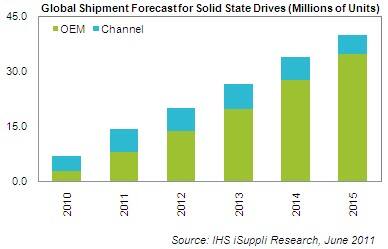 In general, computer manufacturers are showing a marked preference to buy SSDs from the manufacturers of NAND flash memory like Samsung Electronics and Micron Technology because they also have direct control of the NAND flash memory chips that go into the drives. Not only is it practical for NAND manufacturers to leverage their supply and funding strengths to provide integrated SSD offerings, NAND suppliers also enjoy strong long-term relationships with OEMs, whether of PCs or enterprise servers.
In contrast to OEM-made SSDs are solid state drives assembled by a third-party NAND flash manufacturer, such as OCZ or Kingston Technology, whose storage drives are usually sold to the channel or aftermarket. Third-party SSDs accounted for a larger share of activity in previous years because of enthusiastic early adoption from specific demand demographics like gamers. However, the SSD market is shifting now toward increased use in consumer-type PCs, exemplified by the decision last year of Apple Inc. to exclusively use SSDs for its MacBook Air computers. Unlike their traditional rivals the hard disk drive, SSDs have no moving parts and are less prone to physical shocks or mechanical failure.  
The loss of market share by third parties also can be traced to concerns from computer manufacturers, who fear that the third-party scenario may carry potential uncertainties in NAND supply quality down the line.
Aside from a shift in market forces, OEM shipments of SSDs increased this year thanks to a more aggressive push by NAND manufacturers to enter new SSD markets. Samsung and Toshiba, for instance, have paired their SSD products with new ultraportable laptops, while Micron and Hynix also have new SSD initiatives of their own.
The most comprehensive change undertaken among NAND manufacturers is from Intel Corp., which has refreshed and realigned its entire SSD lineup to address a range of applications. Intel's products to date comprise the 500 Series mainstream drives and 300 Series value drives, and the company's cache technology now has the NAND densities and firmware support after several false starts to shake up the SSD landscape.
The biggest move in the industry, however, is from SanDisk, whose acquisition in May of Pliant Technology reinforces the expansion of SanDisk beyond the company's original consumer roots into the enterprise market. The enterprise segment will remain the largest revenue generator for solid state drives in the years to come, and the new SanDisk-Pliant merger will give the combined entity hefty resources to support enterprise clients.
Given their superior scale and reach, OEMs will continue to enjoy larger SSD shipments in the years to come, with the barriers to entry for OEM deals only increasing for the smaller third-party SSD vendors, IHS believes. Third parties—already handicapped by not producing their own NAND—will see their struggles exacerbated in the enterprise world, which demands big budgets for carrying out the kind of support and development normally beyond the reach of small third-party players.
Given their natural production advantages, NAND manufacturers are expected to retain the upper hand in the SSD market, with the balance of power shifting away from the once-dominant third parties.
Read More >  NAND Manufacturers Revamp Their SSD Efforts