With the mobile memory market headed for robust 25.7 percent growth this year, companies possessing incomplete memory portfolios are well-advised to augment their product offerings in order to compete successfully with fully equipped, vertically integrated players in the business, according to IHS iSuppli research.
Revenue in 2011 for the mobile memory market is expected to hit $16.4 billion, up from $13.0 billion last year. Growth this year won't begin to equal the stratospheric 84 percent expansion posted by the market in 2010, but it will be higher than the 18 percent boost projected for next year as the market peaks at $19.3 billion. After 2012, the mobile memory space will decelerate gradually in the face of market saturation and declining average selling prices, with anticipated revenue contracting to $17.6 billion by 2015.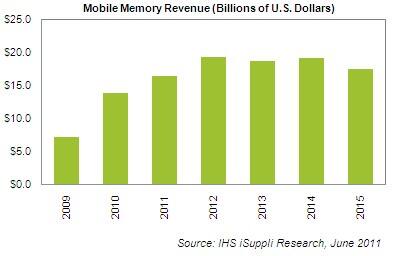 The largest product segment in the mobile memory market in 2011 will be NAND flash, with $8.8 billion in revenue. Mobile DRAM will be the second largest portion of the market at $5.7 billion.
The third segment in the mobile memory market, NOR, will bring up the rear with the remaining $1.9 billion in market revenue. NOR is used primarily in steadily declining amounts for lower-end mobile handsets, but NAND and mobile DRAM represent high-profile memory products used in increasingly popular devices like smart phones and tablets.
In particular, semiconductor suppliers with both NAND and mobile DRAM in their portfolios have stronger positions as they are able to make multichip (MCP) memory, packages consisting of flash memory stacked with DRAM that offer higher profit margins. In effect, such companies—like South Korean electronics giant Samsung Electronics and U.S.-based Micron Technology, both of which also make NOR—become powerful one-stop shops, supplying a full suite of memory products in-house for the various electronic devices made by both companies.
Engaging in this model of manufacturing, known as vertical integration, allows companies to realize greater cost savings by sourcing materials from within. Vertically integrated firms also can offer clients a more complete line of products than if their customers sourced separately from individual sellers.
Already, some companies in the memory space are merging to pool resources and come out with fuller product offerings. Last year's tie-up between Kingston Technology and Phison Electronics exemplified just such a consolidation, and other NAND and DRAM manufacturers with healthy balance sheets must act to form joint ventures with viable partners in order to compete creditably with the likes of Samsung and Micron, IHS believes.
Matching Up to Win: Who Needs Whom?
Several players could benefit immediately from supplementing their deficient portfolios. Taiwan-based Nanya, for example, has been striving to penetrate the mobile DRAM market with the mobile DRAM it makes. However, the company is finding its efforts tough going, given the long qualification cycles set by original equipment manufacturers (OEM) in the handset space. And because OEMs prefer to source from vertically integrated memory suppliers, Nanya's lack of NAND products also is proving a disadvantage, leading Nanya to sell mobile DRAM instead to NAND manufacturers, which then make the higher-profit MCP. Another company lacking NAND of its own is Elpida Memory of Japan, which is outsourcing commodity DRAM production to Taiwanese suppliers even as it ramps up its own mobile DRAM efforts.
Other companies at present that wish to claim a piece of the mobile memory piece include Winbond Electronics of Taiwan, SanDisk of California and the aforementioned Kingston-Phison, but all of them require tie-ups with another company to bolster their competitive positions.
And just as some manufacturers are plotting their way into the market, a few players are choosing to leave mobile memory altogether. For example, American manufacturer Spansion is retreating from the mobile arena to focus on the embedded NOR and low-density NAND markets.
With some players homing in on mobile and others abandoning the space, the mobile memory industry is ripe with opportunities for partnerships that could prove beneficial to any manufacturer seeking a more muscular presence, IHS believes. Vertical integration will be an important way for mobile memory makers to preserve a strong position, and potential consolidation will have the additional benefit of enabling the industry to better manage production in an era of billion-dollar megafabs.
The alternative, IHS iSuppli research indicates, is an increasingly uphill battle to stay relevant. For players without vertical integration capabilities, the companies could end up falling further behind.
Read More > Mobile Memory; Vertical Integration or Bust