The fourth quarter 2009 represented the best period for DRAM suppliers in recent memory, with the industry posting revenue of more than $8 billion for the first time since the first quarter of 2007, according to iSuppli Corp.
Even more impressive is that this strong revenue performance came after the disastrous first quarter of 2009, the worst quarter for DRAM since the Internet bubble crash in 2001.
What was the reason for the DRAM industry's success in the fourth quarter?
Increased bit shipments combined with higher Average Selling Prices (ASPs) were the main factors driving robust growth. This resulted in an overall industry revenue increase of 40 percent quarter-on-quarter, while ASPs climbed by 16 percent and bit shipments rose by 21 percent. The result was revenue of $8.5 billion for the fourth quarter.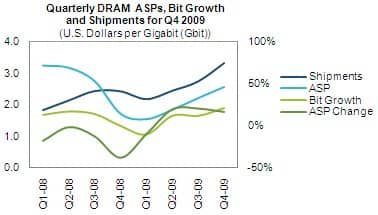 Star Performers
Elpida was the darling of the quarter, with revenue of $1.7 billion, up 64 percent from the third quarter. The company also turned a profit of $230 million, the first time the company has done so since 2007. Elpida achieved this feat by attaining higher-than average bit growth of 30 percent as well as an ASP appreciation of 26 percent.
But it wasn't just Elpida; Micron also saw its DRAM revenue swell by 50 percent. Hynix was up by 42 percent and Samsung rose by 25 percent compared to the third quarter.
Too Rapid Growth?
Historically, when DRAM has experienced a fast growth period during one quarter, subsequent quarters have seen DRAM fall to extremely low levels of growth and ASPs. So will that happen again?
iSuppli believes that it won't simply because the dynamics of the industry are radically different than other periods of history, such as when the Internet bubble burst and capital spending explosion resulted in unsustainable growth.
Instead, iSuppli foresees a period where the DRAM industry will see solid revenue and steady profits. However, this does not take into consideration possible macroeconomic troubles, natural disasters or terrorist attacks that could upset the balance moving forward.
Read More, A Stellar Quarter for DRAM >