The volatile DRAM market in 2009 lurched from one extreme to another, but in the fourth quarter overcame market sluggishness at the beginning of last year to finish on a high note, with the industry achieving profitability for the first time since 2007, according to iSuppli Corp.
Following a first-quarter 2009 revenue low not seen since 2001, the DRAM industry steadily improved throughout the year and ended the fourth quarter at $8.7 billion, up a mighty 43 percent from $6.1 billion during the third quarter. Such an outcome was enough to qualify the period as one of the five best quarters of the last decade for the DRAM market.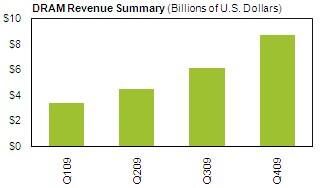 The DRAM industry also realized a positive net income margin of 15 percent in the fourth quarter—the first time after 10 consecutive quarters of negative net income dating back to the first quarter of 2007, iSuppli statistics show. A number of factors accounted for the happy turnaround, including increased bit shipments and higher Average Selling Prices (ASPs). And with improving demand-style supply dynamics, DRAM pricing in the intermediate term appears to herald rosy prospects and profitability for the industry.
Pricing Behavior is Unusual and Strong; Transition to DDR3 Continues
The outstanding revenue performance of DRAM in the fourth quarter was driven largely by a firm pricing environment in which the ASP reached $2.66, a 20 percent increase from $2.21 in the third quarter.
While the uptick marks a substantial quarterly gain, a more dramatic comparison can be drawn to equivalent levels in the fourth quarter of 2008. Measured against the ASP during that period of $1.71, the average selling price in the final quarter of 2009 represented a massive 55 percent increase—significant and rare pricing behavior. Such strong pricing performance puts the industry in a solid position going into 2010, iSuppli projects. Even if the ASP deteriorated continuously this year—which iSuppli is forecasting—prices essentially will be flat compared to year-ago levels as they come off from such a peak.
Among DRAM technologies, DDR3—which transfers at twice the data rate of its DDR2 predecessor— accounted for 35 percent of bit shipments in the fourth quarter. In comparison, the older DDR2 still commanded 48 percent of the market during the period but is on a ceaseless decline. Starting the first quarter of 2010, the two will swap places, and DDR3 will account for the lion's share of DRAM bit shipments.
A key factor that will keep DDR3 pricing above that of DDR2 for much of this year is the high demand profile of DDR3. The roadmap of Intel Corp. clearly points to a DDR3 future, with all of the company's Nehalem-based chips already running DDR3 as well as a DDR3-only Atom processor in imminent release.
Prices for the two DRAM technologies will be kept close as major manufacturers shift production between DDR3 and DDR2 in order to optimize revenue, iSuppli is forecasting.
Read More,  DRAM Market Eyes Steady Climb Following Rollercoaster Ride >